How do I create a new Training Event with one or more instructors?
To create a training event in Neoserra, simply go to View|Training Events. By default, you will be shown all events occurring in a "four month window". The four month window is a date range going back one month from today and three months forward from today. You can, of course, change the date range if you want.
In this FAQ, we will show you how to:
How to create a new training event?
To create a new training event, simply click the "New" link in the right hand corner of the screen. For training events, in particular, pay close attention to the right hand panels. This is where you will edit the address information for the event; add instructors; can view summary information including the specific event's eCenter URL; and you can manage the waitlist.
When creating a new training event, as a minimum you will be required to enter:
A name of your event
An ID for the event (this will be automatically assigned by Neoserra)
A start date for the event
A topic for the event. (If you need to add (or delete) a topic please contact your system administrator and have them update this pick list choice.
While only these four fields are mandatory, the more information you include in the training event record, the more information your clients will have access to if you decide to publish this event on eCenterDirect. Most fields are fairly self-explanatory, but please take special note of the following fields:
Field Name
Description
Registration Deadline
While the start/end dates of an event are fairly self-explanatory, the registration deadline deserves a comment because this field will determine the date/time after which people will not be able to sign-up using eCenter Direct. If no time has been specified, then the event registration will close at 12:01am of the date specified. In other words, if you say the registration deadline is 05/15/16 then users will no longer be able to sign up very early the morning of May 15th.
Description
While this field is fairly explanatory in and of itself, it should be noted that this field requires HTML tags if you want to apply any type of formatting to the description. In other words, if you want to bold certain words, or include paragraph breaks, then you should add these using the appropriate HTML tags as discussed in this FAQ. Once you utilize HTML tags in the description then you should also consider adding HTML tags to any email templates that use the event description substitution variable such as the following templates:

Conference Announcement
Conference Registration

The email templates are, by default, written use plain text. However, if you incorporate HTML tags in your description, then you should also convert the templates to using HMTL otherwise the emails will not be formatted correctly. In other words, the formatting between the description field and the rest of the information in the template needs to be consistent.

If you intend to use HTML tags in most of your event descriptions then it may be worth adding the HTML editor to the event description and instruction fields. This can be done by asking your adminstrator to turn on the "Edit training event description and instructions as HTML?" field found under Administration|Configuration|Neoserra Customization. However, it is then also important that you update all your email templates to use HTML tags.

Status
For all newly created training events, this field will default to Open, meaning that you are accepting registrations for this event. If you do decide to publish this event on eCenterDirect, then the "Open" option will ensure that a sign-up button appears on eCenter. None of the other options in this field will allow a client to sign-up on-line.

Cancelled implies that the event will not take place as scheduled.
Closed all events are set to the "Closed" status at midnight following the end date of the event.
Full implies that the maximum registration number has been reached.
Postponed similarly implies that this event will not take place as scheduled.
No eCenter Signup allows the event to be advertised on eCenter Direct, but no eCenter Signup button will be offered. Instead it is up to the user to provide an alternate means of registration. This can be added to the "Instructions" field, or you can use the "Signup URL" field that is especially provided by Neoserra upon selecting the "No eCenter Signup" status to include a link to another website:

If this field is filled in with a URL, then eCenter Direct will display a Sign-up Button with an arrow indicating that the sign-up is handled on other website:

If this field is left blank then no sign-up button will be offered on eCenter Direct at all and becomes imperative that you add detailed instructions in the Instructions field.

Phone Registration Required requires interested parties to contact the center via alternate means to sign-up. In other words, the sign-up will not be handled via eCenterDirect.

Program Format
By default there are five Program Format options:

Multi-session course
Online Video Training
Teleconference
Webinar
Workshop/Seminar

To post online videos, please refer to the FAQ titled: How do I advertise training videos on eCenter Direct that are on-going and don't have a specific date?
Maximum Attendees
If you have limited seating capacity, then you may want to enter a maximum number of attendee registrations allowed. Keep in mind that by entering a maximum here, interested parties will not be able to sign-up, using eCenterDirect, once the number of registrants has met the maximum, unless you also check the ?Allow Waitlist? checkbox.
Allow Waitlist
If you do have a maximum capacity for your event but would like to allow a wait list then please check this option. Interested parties would be able to sign-up, using eCenter, even after the maximum number of registrants has been met; however, they will be told how many people are already on the waitlist and they will also see their position on the waitlist. You can manage your wait list in the Neoserra right hand margin - the person first on the list was added to the wait list fist:

Neoserra will calculate all fee and attendee demographic data based upon attendees listed?
This checkbox is worthy of an FAQ by itself because it determines who and how your demographic and fee information is calculated.
Fees
You can have up to seven different fees associated with each event (of which one is the "complimentary" option.) You can enter the different fee levels in the fields provided:

Once an attendee pays a certain level, then that fee level can no longer be edited. In other words, you will not be able to change the fee if someone has already been recorded as having paid that fee.
If you do decide to publish this event on eCenter then you will need to complete the eCenter fields list below. These fields are mandatory for all eCenter published events:
eCenter Field Name
Description
Post this event on eCenter?
No means the event will not be published and the rest of the eCenter fields can be ignored.
Public means that anyone can browse to this event and optionally sign-up for the event.
Private means that you can allow online registrations but the event is not visible to the general public. You would have to send the URL of the event to those people whom you want to invite privately The public link can be found in the right hand margin in the Summary panel:

Expose event fee?
If your event requires a fee you may, or may not, want to publish that fee. Reasons not to publish it is if you have different fee structures for different attendees. Neoserra can only publish one fee.
Publishing Center
The publishing center is the center under which the event will be published on eCenter Direct.
Event registration information required
As discussed in the FAQ titled: How can I include the company fields on my event registrations on eCenter Direct? , this field will allow you to ask your event registrant for company as well as contact details.
Display Time-zone
This field specifically governs the "Registration Deadline" field.
Point of Contact information
The email address entered, will be the email address that will receive all eCenterDirect registration confirmations. You can have one or more email addresses separated by a comma. This same email address will also be used for all automated communications sent from Neoserra to the members on the attendee list
eCenter Payee
If the event has a fee associated with it, then eCenter can be configured to handle online payment from event registrants. Neoserra and eCenter Direct support the following merchant accounts services:

Once the event has been configured properly, it will be available in the "eCenter Payee" drop down menu.

Public Instructions vs. Attendee Instructions
The "Public Instructions" are provided on eCenter Direct on the detail page of the published event. By default, this field is also included on the event registration confirmation email templates (by means of the [CONFERENCE_INSTRUCTIONS] substitution variable.) The "Attendee Instructions" are not made available on eCenter Direct until the attendee status is changed either to "registered" or "attended". In other words, these instructions are designed to convey information to those individuals who have actually registered for the event - not to people simple browsing the event. The information in this field can be included in your email templates by means of the [CONFERENCE_REGISTRANT_INSTRUCTIONS] substitution variable. If you are hosting a webinar, for example, then this field may be used to include the actual webinar link. By default, Neoserra will not include this field in any of the system-defined email templates.
For a more detailed overview of the integration between Neoserra and eCenter Direct, as it pertains to training events, please refer to the FAQ titled: How do I publish a training event on eCenter Direct?
The rest of the eCenter fields are fairly self-explanatory, but do keep in mind that all fields will be exposed on eCenterDirect for clients to see with the exception of the "Attendee Instructions" and "Notes" fields If you have any internal comments that you do not wish to publish publicly then you can add those in the Notes field of the Training Event. Once you have completed entering in all your information in the training event record, click Save.
How to add instructor(s)?
The next step is to add instructors to your event. It is important to add instructors if you want this event to appear on the instructor's scorecard. In the right hand panel, you will see the option where you can add new instructor(s) to this event:

If the instructor is not a counselor within your organization, but rather someone coming in from the outside, you can create a special "Instructor" counselor record type that will only show up for selection when adding instructor names to a training event record. In other words, "Instructor" counselor records will not be available for selection from the drop-down menus of any of the Counselor fields found throughout Neoserra. You should always first check to see if the instructor already exists in the database. If not, then you can click "New" to create a new instructor record: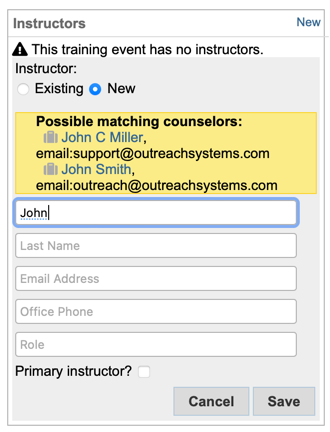 For more information about instructor records, please refer to the FAQ title: How do I add a counselor or instructor record?"
Note: Once you add more than one instructor then you must designate who is the "primary" instructor. You can change primary instructors but you cannot delete the primary instructor. Adding multiple instructors will mean that this same event may appear on more than one scorecard that is calculating based upon counselor data.
Also added in the right hand panel are any optional documents that you may want to publish on eCenter Direct. You can Upload the document(s) and then decide whether to make them public or not.
Now you are ready to start advertising your event using the URL shown in the right hand margin.
How to add Scheduled Emails?
Optionally, you can schedule automated emails to go to individuals on the attendee list. For example, you may want to send a reminder to all registered attendees a few days before the start date of the event. Or, you may want to send a survey a few days after the event.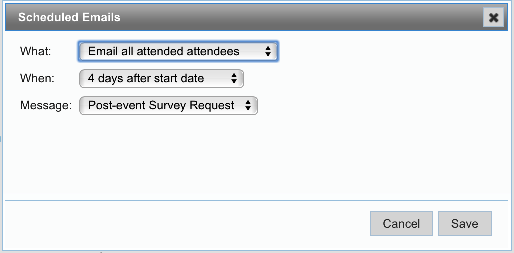 You can send emails to certain groups of individuals on the attendee list:
All registered attendees
All payment pending attendees
All attended attendees
All prospective attendees
All wait-listed attendees
All no-show attendees
All canceled attendees
All paid attendees with status of registered or attended
All unpaid attendees with status of registered, attended or "payment due"
The emails can go out X days before or after the start date of the event. The scheduling is always triggered based upon the start date of the event, not the end date.
You can choose one of the email templates to send to the selected members of the attendee list. The list of email templates that are available depend upon whether the event is published on eCenter Direct or not, and whether it has a survey attached to it:
Email Template
Comments
Training Reminder
Training Follow-up
User-defined templates
Templates always available as an automated email
Conference Announcement
Conference Registration
Templates available if event is published on eCenter Direct
Post-conference Survey Request
Pre-conference Survey Request
Templates available if event is published on eCenter Direct and either has a post-event survey or pre-event survey associated with the event respectively
You can create your own user-defined email templates as discussed in this FAQ.
The email will be sent early in the morning on the day matching your configuration settings. The email will go to those members on the attendee list that match your configuration settings. In other words, you cannot pick and choose who the email should go to - it will go to all those that match your configured criteria.
Important Note: If you include your email address either in the CC line or the BCC line of the email template that is invoked as part of the scheduled email process, then you will receive a carbon copy of all emails sent via the scheduled mail process. This means that you may receive multiple copies of the same email: once for each person on the attendee list that matches the criteria of the scheduled email's configuration settings.
Want more? Browse our extensive list of Neoserra FAQs.