How can I include the company fields on my event registrations on eCenter Direct?
By default, when a prospective attendee registers for one of your events on eCenter Direct, the registration process will only capture the attendee's personal information such as their name, address, phone number and email address along with some demographics about the person (such as gender, race, hispanic status, etc). By default, eCenter Direct will not ask the registrants anything about the company they represent.
However, for many programs the company information is essential for their reporting. If you, generally speaking, wish to capture company data along with the registrant's personal data, then you will want to go to your Center record in Neoserra (View|Centers) and edit the field titled: "Event registration information required". You will see three options:
Contact
Client
Client + Agreement
The first option, "Contact" is the default choice, however, the second and third options would additionally allow you to obtain company data (if available) from your event registrants. Of course, if a person is not associated with a business, then they can leave the company fields blank. eCenter Direct will not force the user to type in company data if they don't have any company details, it merely provides the option for the user to complete these fields, if applicable.
The "Client" option would ask the event registrants all the standard personal information along with the company fields enabled under the More|eCenter Sign-up Fields for your center. Generally speaking this option is desired for all SBA-funded programs that have to capture 641-like details for all training attendees, but who do not need to obtain a signature merely for training purposes.
The "Client + Agreement" option would additionally ask the event registrants to agree to your latest terms and conditions. Generally speaking this option is desired for all PTAC programs who are supposed to obtain express consent from all training attendees.
The settings under your center record will apply to all events entered into the Neoserra database for your center, unless you overwrite it on an per-event basis. In other words, you may want to collect contact and company details for most events, except for one large, state-wide event annually. For this one event, you may want to change the "Event registration information required" field on the event record, to "Contact":

Since a new client sign-up and a new event registration with client information can "look" very similar, Neoserra will clearly distinguish between the two new sign-ups categorizations on the home page, before you process them: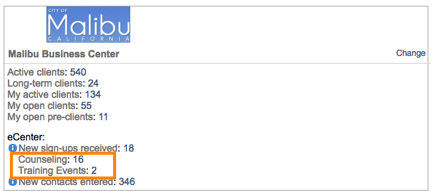 But even after the client record has been processed, how do you know whether the client is a training client or a counseling client? Neoserra will track what action the client executed first on eCenter. The "Services Sought" field, on the client record, will indicate whether the client initially came to your program for training or for counseling purposes: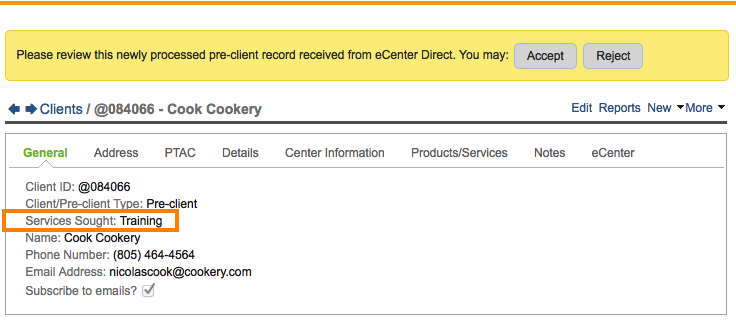 Of course, if the client completed the client application as part of their event registration, then that event registration will also appear in their data stream and the "Assistance Requested" will be automatically set to: "Training."

Want more? Browse our extensive list of Neoserra FAQs.