How do I publish a training event on eCenter Direct?
Training Events that are added to Neoserra, can optionally be published on eCenter Direct and current and prospective clients can sign up for your program's events directly from eCenter Direct. It goes without saying that, to encourage event participation, you should be as descriptive as possible in your title and description so that potential attendees can evaluate whether or not the event is right for them. In addition to the title and description fields, it is also important to understand the other fields on the Neoserra training event record and how these fields affect your eCenter Direct posting.
In this FAQ, we'll discuss the following topics:
Fields that affect your eCenter Direct posting
On the Training Event record in Neoserra, there are a number of fields under the "eCenter" heading, that directly affect your eCenter Direct posting. But in addition to these eCenter specific fields, there are also a number of other fields that are critical for an effective and efficient eCenter Direct site.
The following colorful graphics shows some of the relationships between the Neoserra training record and the eCenter Direct record: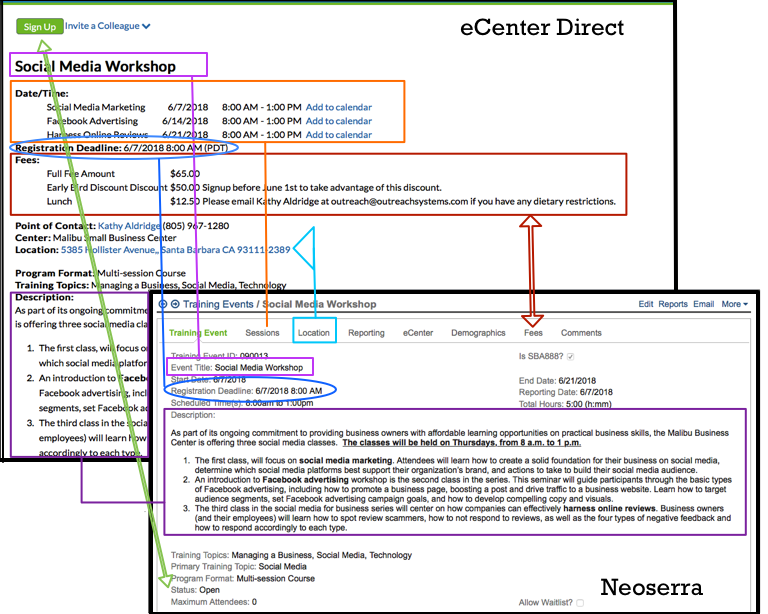 Those Neoserra training event fields that play a more critical role in your eCenter Direct implementation, are described in detail here:
Post this training event on eCenter?
This field is probably the most critical field, because if it is set to "No" then the event will not be published on eCenter Direct at all. Your Neoserra training event must have a selection other than "No" in order for an event to be available for viewing on eCenter. Events can be posted for the entire public, or only a select few, depending upon which option you select:

Public. When "Public" is selected, the event displays in eCenter's training events calendar page.
Private (Unlisted). When "Private (Unlisted)" is selected, the event does NOT display on eCenter's training events calendar page, but it is still available on eCenter to anyone that you've given its unique URL to. So, for example, you could invite a select group of prospective attendees, provide them with the unique link, and this group would be able to register via eCenter. The unique URL can be found in the Summary right hand panel:

Training Event Status.
The next most important field is the "Training Event Status" field. The status will determine if and how the event is made available on eCenter Direct.

Open. When "Open" is assigned as the status, the training event is available for viewing and registration via eCenter's training events calendar page. The "Open" status is the only status that will offer a direct sign-up link that is integrated with Neoserra.
No eCenter Signup The other choice that offers a sign-up button on eCenter Direct is the "No eCenter Signup" option. This option, however, is not integrated with Neoserra and instead sends the user to a another website for registration. It is up to the user to provide an alternate means of registration. This can be added to the "Instructions" field, or you can use the "Signup URL" field that is especially provided by Neoserra upon selecting the "No eCenter Signup" status to include a link to another website:

If this field is filled in with a URL, then eCenter Direct will display a Sign-up Button with an arrow indicating that the sign-up is handled on other website:

If you set the Status to "No eCenter Signup" then your Registration Policies will not be included for this event on eCenter Direct since it is assumed that the registration policies of the other party applies.

Full. When "Full" is assigned as the status, the training event is either available for viewing only via eCenter's training events calendar page or, if the Allow Waitlist? option is selected in the training event record, interested attendees are allowed to add their names to the event's waitlist. When a training event record reaches its maximum number of registered attendees (as entered into the Maximum Number of Attendees field,) the training event's status will automatically update to "Full." and eCenter Direct will show how many people are already on the waitlist:

The event will be "reopened" (i.e. set to "Open" status) if a registrant cancels their registration via eCenter and the total number of registered attendees is now less than the maximum number of attendees allowed, and the waitlist option is not checked. If the waitlist option is checked, then it will be up to the event coordinator to determine whether the event should be reopened or whether people should be moved from the waitlist.

Keep in mind that registrants can only cancel their registration if they have not yet paid for the event.

Phone Registration Required. When "Phone Registration Required" is the event status, the training event is available for viewing only via eCenter's training events calendar page. Note: In rare cases, when a client cancellation brings the registered attendee count below the maximum number allowed, and there is no wait list allowed, then Neoserra will automatically change the event status to "Open" since it does not know that the event previously was set to "Phone Registration Required."
Canceled. When "Canceled" is assigned as the status, the training event is available for viewing only via eCenter's training events calendar page. As with postponed and phone registration training events, eCenter visitors will not be able to register for a training event that has been canceled.
Postponed. When "Postponed" is assigned as the status, the training event is available for viewing only via eCenter's training events calendar page. eCenter visitors will not be able to register for a postponed training event.
Closed. An event will automatically be set to "Closed" at midnight following the end date of the event.

Registration Deadline.
The registration deadline determines how long the event remains open on eCenter Direct for online registration. Once the deadline date has passed, eCenter visitors are no longer able to register for the event but the event will remain in the training event listing until the Start Date has passed.
Maximum Attendees.
When you provide a maximum number of attendees, Neoserra will track the number of registered attendees in the training event record's attendee list. When the maximum number of attendees is reached, the event's status automatically switches to full, disallowing any more registrations. If the event allows waitlisting, eCenter visitors will be able to add their names to a waitlist.
Allow Waitlist?
When this option is selected, events that have reached their maximum number of registered attendees will allow eCenter visitors to place themselves on the waitlist while telling them their position on the waitlist.
Fees
You can have multiple fees associated with each event (in addition to a "no fee" option.) You can enter the different fee levels, as appropriate, and determine on a fee-by-fee basis, if a fee should be published on eCenter Direct, or not. All published fees will appear on eCenter Direct with their corresponding description.

For example, you may want to publish both the full fee and the early bird discount fee. You would add a "valid thru" date for the early bird fee, and after this date, the early bird fee would disappear from the eCenter Direct posting.

You may have some fees that you don't want to publish on eCenter Direct at all, because these fees only apply to a certain group of attendees. For example, you may have a student discount. To avoid confusion (and possible frustration), you may not want to publish the student discount that (non-student) registrants cannot take advantage of. You will need to provide your student group with the proper redemption code so that they can sign up with the discounted fee. Providing your clients with the appropriate redemption code will be your responsibility. Fees with redemption codes can also be set to expire, but these fees can never be published.

In addition to the seat fees, you can also add extra fees for lunches; conference materials; promotional items; donations; etc. using the "New" link available within the Fee interface as shown in purple above. These add-on fees are always optional and registrants can pick and choose the add-ons that they want to sign-up for.

Once an attendee pays a certain fee, then that fee can no longer be edited. In other words, you will not be able to change the fee if someone has already been recorded as having paid that fee.

eCenter Payee.
When a fee is associated with a training event and exposed on eCenter, Neoserra and eCenter can be configured to allow registrants to pay online. For more information on this, see the FAQ titled How do I set up eCenter Direct event payment to a PayPal or other online payment system account?.
Training Event Contact, Phone, and Email.
Found in the "eCenter" area of a training event record, the Training Event Contact field and its associated Email and Phone fields determine the training event contact information that will display on eCenter. This person may or may not be the actual instructor but rather the person handling all registration related questions. The email address provided here plays a very important role in eCenter's operations. The automated registration status email a visitor receives upon completing an eCenter training event registration arrives from this email address as does the follow-up confirmation e-mail that is sent upon the acceptance of the registrant's training event request record. In addition, all training event request notifications are sent to this email address.
In addition to the fields on the training event record that are described above, there are also two right-hand panel capabilities to be aware of:
Image
Events posted on eCenter Direct can include an image that will be used to advertise the event on the event listing. There are two default images that Neoserra will automatically apply to your events:

The top image is used, by default, for all events with a "Program Format" of:

Multi-session Course
Workshop/Seminar

The second image is used, by default, for all events with a "Program Format" of:

Online Video Training
Webinar
Webinar/Teleconference

If you prefer to upload your own image to be displayed on eCenter Direct, then you can do so in Neoserra from the right hand panel of your training event record:

The ideal image should have a ratio of 2:1. Your uploaded image can optionally be copied from event to event using the More|Copy command. Your uploaded image will appear both on the general listing of all event on eCenter Direct and on the detail page. The default images will only appear on the eCenter Direct training event listing. The images will not appear in the calendar view.

Documents
When attached to training event records, training event materials can be downloaded from eCenter. For detailed information on this, see the FAQ titled How do I post Documents to eCenter Direct?.
After saving a training event record that is enabled for eCenter Direct posting, it's always a good idea to review the event listing on eCenter Direct to ensure it looks and reads as intended. An easy way to do this is to click on Public eCenter link in the right hand panel: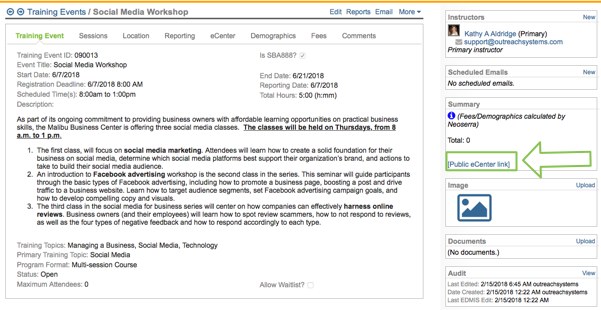 This link can also be provided to potential attendees as a way to easily direct them straight to the event listing, and you may want to provide this link to your webmaster who can post it on your general website.
Customizing eCenter Direct's Event Registration Functionality
There are a couple global configuration settings to be aware of:

By default, the training events listing on eCenter displays the training events scheduled over the next 90 days. However, your system administrator can make this duration longer or shorter by going to Administration|Configuration|eCenter Settings and entering a different number of days into the Default upcoming training event dates fields. Regardless of the number of days you have set here, visitors of eCenter can always change the date range for which they are viewing upcoming training events.
Secondly, your Neoserra administrator can also decide what the default presentation should be. The choices are
Calendar:

List:
The abstract list view is a concise way of listing multiple events on one page. Each listing is presented in the same sized box. Because the title of some events could be longer than the title of other events, Neoserra will automatically adjust the font size depending upon the length of the title:
Between 0-60 character title: Normal font size
Between 61-90 character title: 80% font size
More than 91 character title: 60% font size
Regardless of the initial presentation format, when a client clicks into the event they will always be taken to the detail view: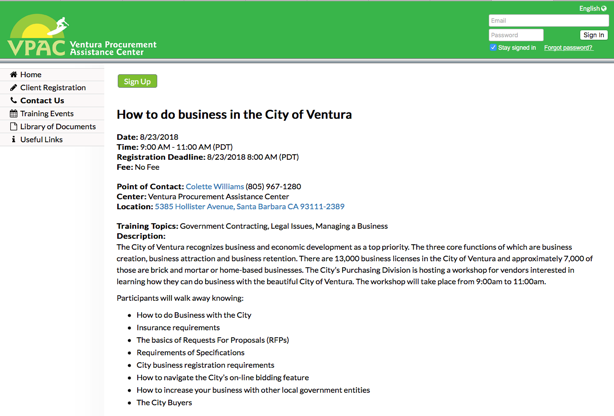 What information will be collected as part of the registration process?
For each new event registration you can decide whether you want to capture only the attendee's contact information (i.e. their name, address, phone, email and personal characteristics such as gender, race, veteran status, etc), or whether you also want to capture some information about their company:

Normally speaking the publishing center's settings will apply but you can overwrite this setting on a per event basis as discussed in this FAQ.
Common Sign-up Error
There is one common error that clients may experience when signing up for an event on eCenter Direct. This error is caused when the client has forgotten their password and they want to use the password retrieval feature on eCenter Direct. The problem comes in when there is more than one contact record in your Neoserra database with the same email address.
When the client clicks on the "Retrieve password" link, and there are, in fact, duplicate contact records in the database with the same email address then they will get the following error message:

eCenter Direct will not be able to provide the client with their password, since they essentially have multiple passwords in the Neoserra database. The client will be provided with the email address of the counselor(s) associated with their existing contact records in the Neoserra database to help resolve this issue. These same counselors will also receive an email when a client attempts to log in without success due to a duplicate record issue: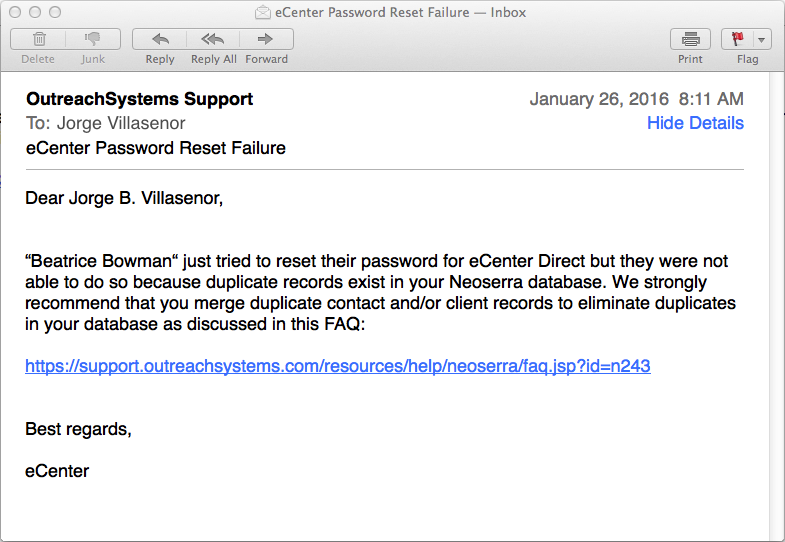 It is vital that you eliminate duplicate records from your Neoserra database in order to facilitate your clients' access to eCenter Direct as discussed in this FAQ.
Want more? Browse our extensive list of Neoserra FAQs.