How do I use BidCenter?
OutreachSystems monitors hundreds of government agency web sites on a daily basis and includes all the bids in the daily Bid Match program to be matched to your clients' active search profiles. A complete listing of all web sites monitored by OutreachSystems can be found at http://www.outreachsystems.com/usabid. However, there are some regional government organizations that do not post their open bid opportunities on their own hosted web site. If your program works closely with such an agency and you would like to submit their bids for inclusion in the daily search then you may use the BidCenter service provided by OutreachSystems to enter their open contract information.
If you intend to use BidCenter, then we recommend that you add the http://support.outreachsystems.com/BidCenter/ link to your help menu in Neoserra. Clicking on this link will require you to log in using your OutreachSystems mailbox and password. This is NOT your Neoserra username/password. You will need to contact OutreachSystems for this information. Once logged in you will be presented with the main BidCenter dashboard.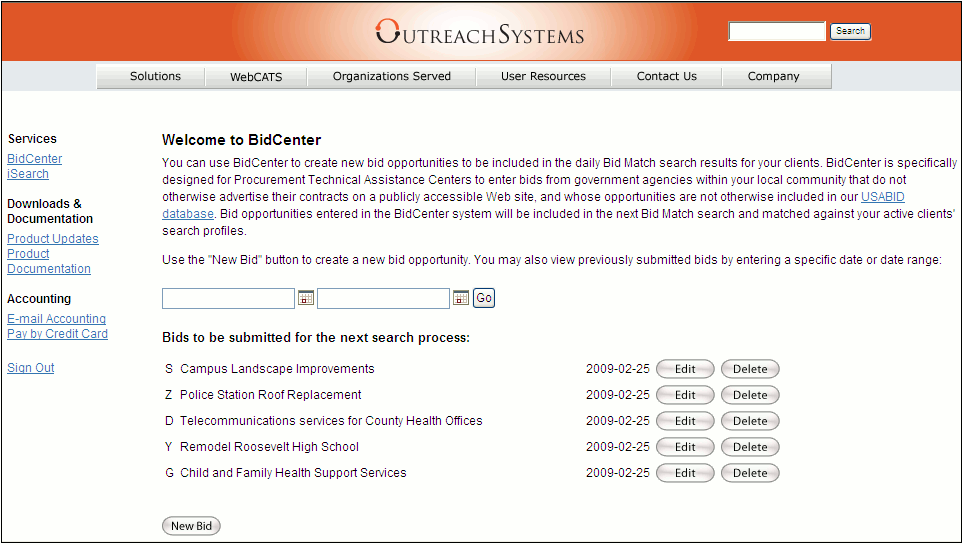 The bids that have been entered by your login account and that are still waiting to be submitted for the next Bid Match search process will automatically be listed on this page. These bids can still be edited or possibly deleted until 9:30 AM Pacific Time. At 9:30 AM, all of the bids submitted since 9:30 AM the day before will be gathered up and included in today's search.
You can also view bids submitted and processed previously by entering a date range in the fields provided. Bids submitted and processed previously can no longer be edited nor deleted.
To create a new bid opportunity, click the New Bid button.
You will be presented with a data entry form where all of the mandatory fields are shown in bold. It is important that you provide as much information about the bid opportunity as possible so that clients whose search profile matches on this opportunity will be able to determine whether the bid requirements meet their capabilities. Also, it is important to include complete contact information including area code for phone and fax numbers as some clients may be located in area codes that differ from the agency.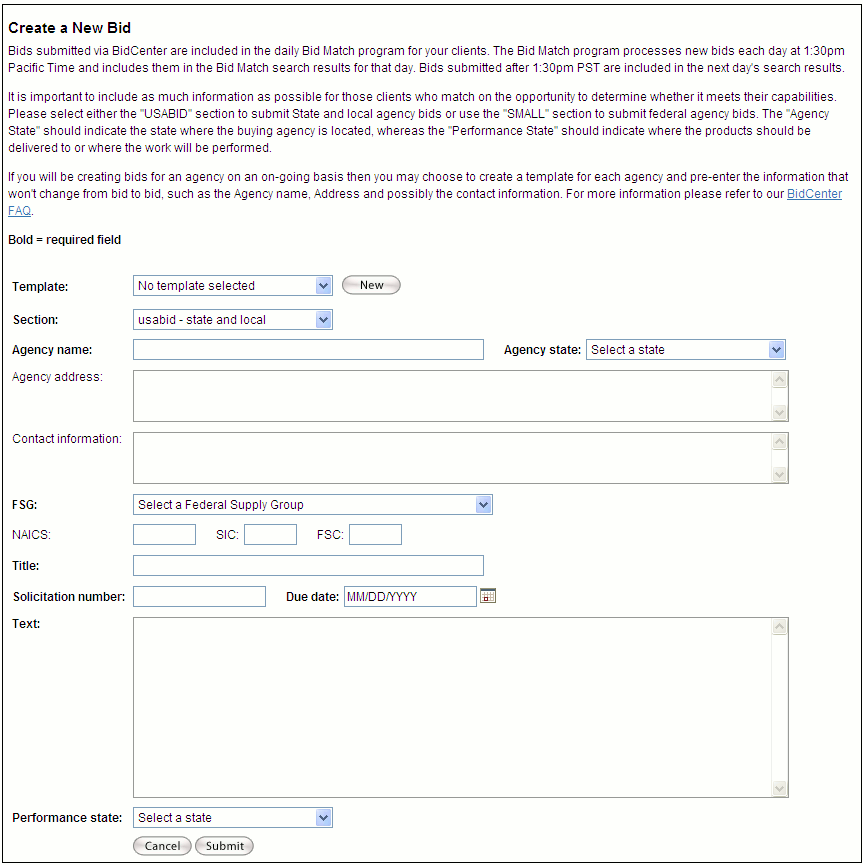 Creating a New Bid
Template: If you anticipate submitting multiple bids for one agency either in one day or over time, then it may be beneficial to create a template for the agency that includes all of the static information about that agency such as address, agency, performance state, and possibly buyer contact information. Once you have created a template, you can use it over and over again without having to type the same information into each bid. Since you can have an unlimited number of templates, it is important to give the template a unique and meaningful name so that you can easily identify the correct template that you want to use. Usually the FSG, Title and Text fields are not good candidates for pre-entering in a template because they often change from bid to bid, however, there are some agencies that purchase the same types of products and/or services over and over again and it may be that this information can also be used in the template. Besides the template name, there are no mandatory fields on the template screen itself, however, if you don't complete a mandatory field in the template you will still be required to complete the field on the main data entry form before your bid can be submitted.
Section: Choose USABID if you are entering a bid opportunity for a state, county or city government organization. Choose SMALL if you are entering a bid opportunity for a federal agency. This classification of your bid will place the opportunity in the appropriate database for the Bid Match search process.
Agency Name: Enter the complete name of the agency including the division or department who is issuing this bid. Don't include the address information in this field, it will be entered later.
Agency State: Choose the state or US territory where the agency is located. Please enter this separately from and in addition to the agency address, to ensure that the bid is properly classified in the search database. In the drop down menu selection you will see all 50 states as well as the US territories including Guam and Puerto Rico.
Agency Address: While the agency address is technically optional it is best to always enter the street address, city, state and zip for the buying agency in the field provided. If the agency has a web site with general information about the agency, you may also choose to include it here, even if this web site is not used for posting bids since it may still provide your clients with helpful information about the organization.
Contact Name: It is important to provide your clients with as much contact information as possible even though this field is not mandatory. If there are multiple buyers involved with this bid, please include all of their names, titles, phone and fax numbers as well as their email address if available. This field will allow up to 255 characters.
FSG: Choose the appropriate Federal Supply Group that best describes the bid opportunity. You may only choose one code per bid.
NAICS/SIC/FSC: These fields are optional and many agencies don't use them, however, if you happen to know one or all of the codes that best describe this bid opportunity, please include the information.
Title: The title field is mandatory and should describe the procurement opportunity in as much detail as possible up to 255 characters.
Solicitation Number: The solicitation number is also required and should be the unique number used to identify the bid within the agency. This field will allow up to 64 characters.
Due Date: Generally speaking you will not want to submit a bid via BidCenter that requires a response in less than five days, so the Due Date should always be at least five days out. Most of these bids are primarily distributed to small businesses and most small businesses do not have the resources to respond within fewer than five days.
Text: The more details you include in the text field the better the responses will be from your clients. Include any mandatory pre-bid meetings or on-site inspections that might be important to your clients and also identify how they may obtain more information such as the complete bid package, if possible. You can enter up to 2 Gigabytes of data, although we don't recommend quite this much information! Unfortunately, you cannot include any attachments and the text entered in this field should not include any special formatting such as bolding or color.
Performance State: Sometimes an agency will issue a bid that needs to be performed in a state other than where the agency is located. Use this field to identify where the work will be performed or where the goods will be delivered.
Once you have completed all of the mandatory fields you may click the Submit button and your bid will be queued up until 1:30 PM Pacific Time at which time it will be included in that day's search process. Your clients' search profiles will be matched against the bids and only those bids that meet each client's capabilities according to their search profiles will be delivered their mailbox.
If you wish to submit another bid, click New Bid again and complete another data entry form.
Want more? Browse our extensive list of Neoserra FAQs.