How do I edit an existing search profile or change the email address that the bid matches are delivered to?
To ensure that your clients receive only those bid opportunities they are interested in, OutreachSystems plays a very active role in writing your clients' search profiles. When you edit an existing search profile and add keywords, one of our search strategists will review the keywords and add common misspellings and pluralizations, wildcards and proximity statements. OutreachSystems guarantees that all keyword updates are made within 24 hours of submission.
There are some changes, however, that do not require the review of one of our search strategists. You can delete keyphrases from a search profile instantly. Similarly, you can edit and update the bid match recipients' email address instantly.
To make any changes to a client's bid match search profile, go to their client record, and in the Bid Match panel in the right hand column of the client stream you will see the edit button: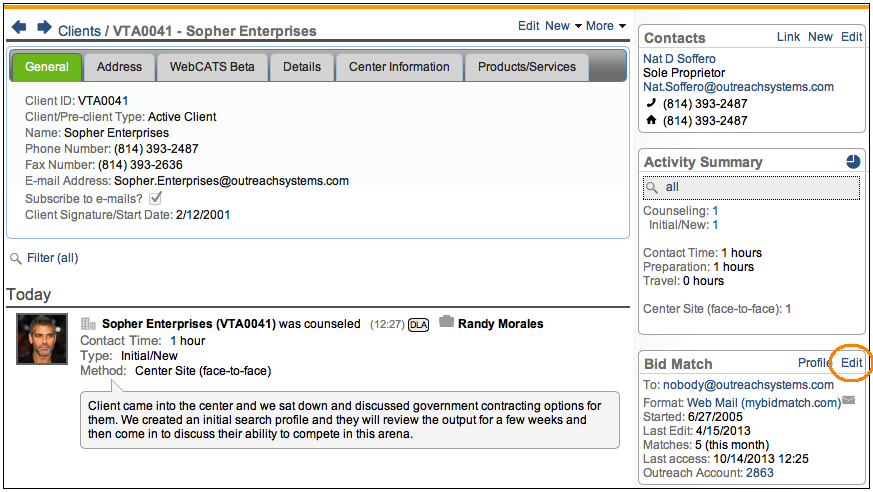 Editing the Bid Match Recipient's Email Address/Format
You can change a client's bid match email address or email format directly on the edit screen and the change will immediately go into effect. You don't even have to write a message in the comments box, although we always like to hear from you! This will work if you are adding e-mail addresses, deleting e-mail addresses or even changing e-mail addresses.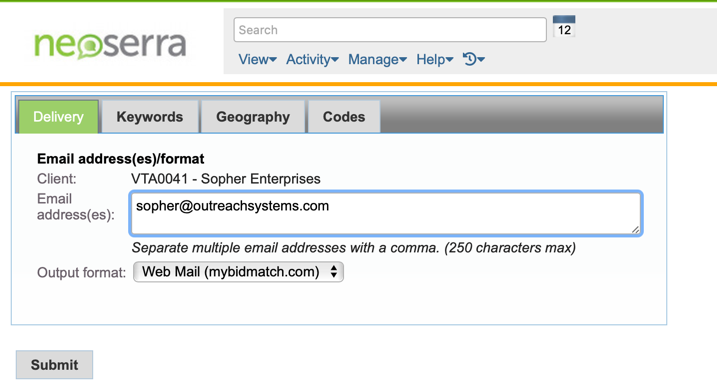 When you edit either of these two fields, Neoserra automatically generates a change notification message to the OutreachSystems Bid Match system and the profile will be updated with the new e-mail addresses and/or e-mail format. To confirm OutreachSystems' receipt and processing of your request, look for the automated confirmation message that will arrive within the hour at the default email address you have designated for your Bid Match program.
Adding Additional Keywords
In the next section of the profile edit screen you will be able to add keywords to the existing profile. As discussed above, any new keywords added will be reviewed by one of our search strategists and the appropriate logic will be added. While we do allow you to also add NAICS codes and/or FSC codes to a profile, we strongly recommend against the use of codes.
Deleting Keywords
You can delete keyphrases instantly from your client's search profile by checking the check box in front of each keyphrase you want to delete: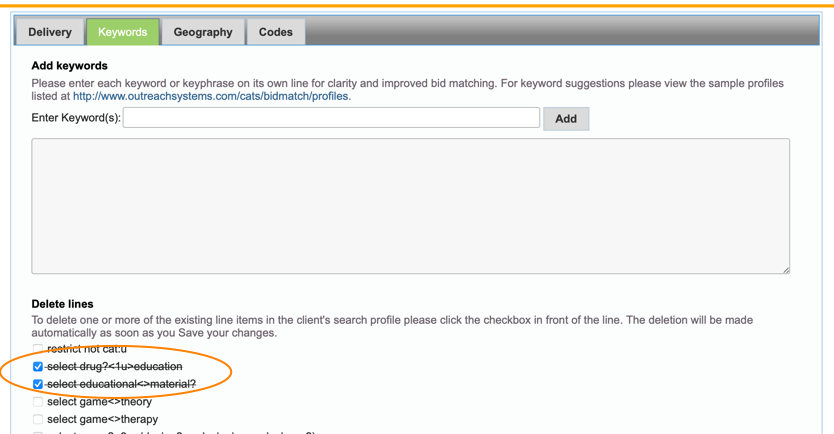 Updating Geographic Restriction
The second to last section of the profile edit screen allows you to submit a new geographic restriction for this client's search profile. Keep in mind that Outreach will view this new geographic restriction as an overwrite to any geographic restrictions previously entered in the profile. If you want to add to the existing geographic restriction then you can add a comment in the last section fo the profile edit screen.
Want more? Browse our extensive list of Neoserra FAQs.