How to create a DLA satisfaction survey?
In this FAQ, we will discuss:
DLA Requirements
Per the DLA Cooperative Agreement, all PTAC centers should survey their clients on an on-going basis so that it allows the PTAC to receive surveys continually and to report up-to-date figures in each of PTAC performance reports.
DLA has provided the PTAC with three questions that should be asked of all clients, and each question should solicit feedback from respondents using the following scale:
Strongly agree = 5 points
Agree = 4 points
Neither agree nor disagree = 3 points
Disagree = 2 points
Strongly disagree = 1 point
As you can see each response is "weighted" based upon the score associated with the response. This score will be used to determine the average response rate for each question. Because the answers are weighted, it is important that you set up the Neoserra survey response type to: "Single-select numerically-based" choice. This response type requires you to predefine a list of responses for the respondent to choose from as well as a numeric value that Neoserra will assign under the hood. Because you have assigned a numeric weight to each response choice, responses to this question can be tracked on scorecards.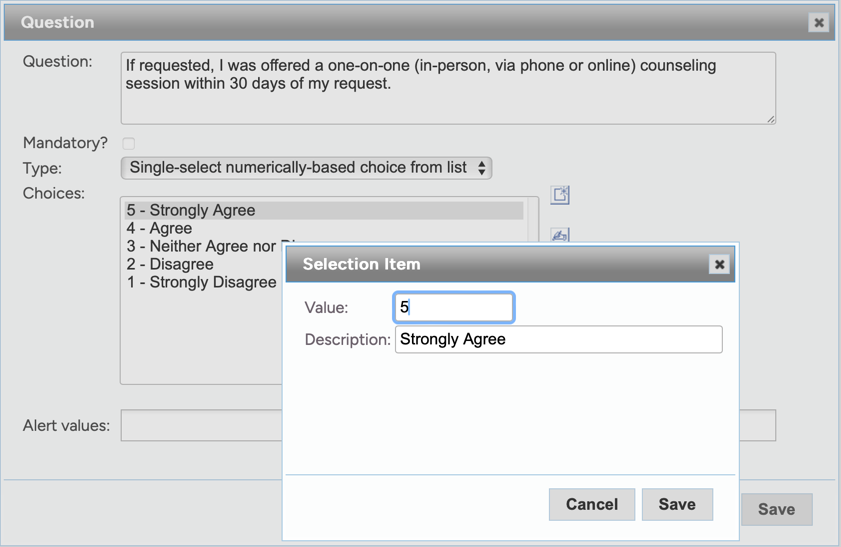 Important: Do not include include a choice for "Not Applicable"! Instead tell your clients, in the narative, to skip a question if it does not pertain to them. Adding "0" option for "Not applicable" will affect your weighted score. How? Well, let's assume you received 10 survey responses all with a score of 5 (=50 points), but 3 clients indicated that a question was not applicable to them. If you gave them a choice of "Not applicable" with a value of "0", then your average score will have gone down from 5.0 to 3.8!
DLA has provided you, not only with the response scale, they have also provided three questions that must be included in your survey. Please be aware that these pre-defined questions changed as of 10/1/19. The old questions were as follows:
(name of your PTAC) effectively assisted my business in pursuing contracting opportunities with Federal agencies, State and/or local governments or in pursuing subcontracting opportunities under government contracts.
(name of your PTAC) staff is knowledgeable with regard to the terms, conditions, procedures, rules and regulations relating to contracts with Federal agencies, State and/or local governments.
(name of your PTAC) offered relevant, current and effective training on topics pertinent to contracts with Federal agencies, State and/or local governments.
As of 10/1/19, question 1 and 3 were altered as follows:
PTACs are required to help businesses understand how to sell goods and services to U.S. governments. (name of the PTAC) provided me with information about contracting-related processes and procedures used by Federal, State and/or local governments and/or assisted me by hosting an event where I was able to network with other businesses or government personnel to learn about government contracting or subcontracting opportunities or procedures.
Question #2 remains unchanged.
If requested, I was offered a one-on-one (in-person, via phone or online) counseling session within 30 days of my request.
Because two of the questions have changed, you will need to create a new survey starting with fiscal year 2019/2020. You will not be able to carry the answers over from the old survey to the new survey. Neoserra includes the most recent PTAC survey as a survey template: "Annual Client Satisfaction Survey (PTAC)." You can either use the Neoserra template, or you can create your own survey as per the FAQ titled: How do I create, post and advertise client surveys?. When finished, your survey should look like this Pre-2019: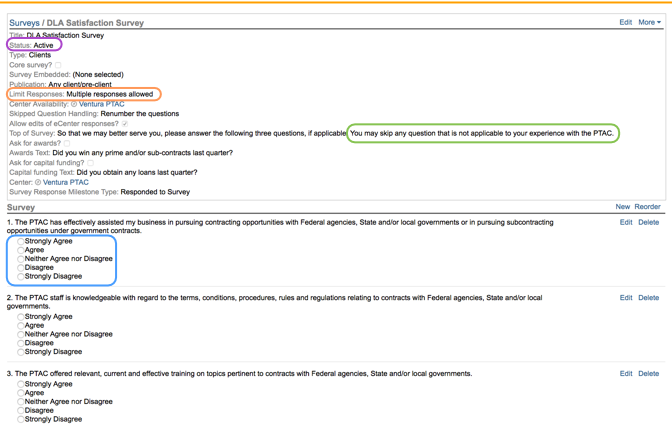 And it should look like this Post-2019: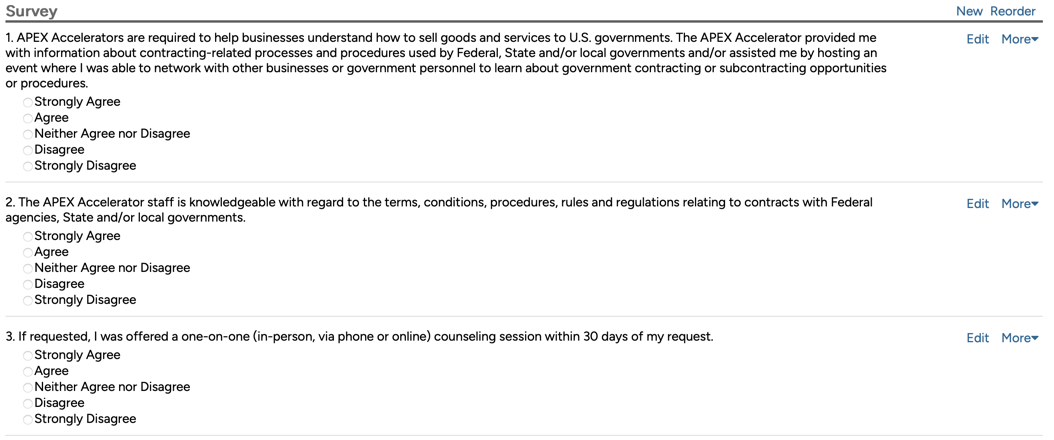 In the first image, you will see that we have highlighted some critical points to be aware of regardless of what the questions are:
In purple, you will see that your survey needs to be active.
In orange, you will see that your survey will need to accept multiple responses from the same client. This is a DLA requirement.
In green, you will see that your survey should clearly indicate in the introduction that questions may be skipped if they are not applicable.
In blue, you will see the five survey responses allowed by DLA. While not visible on this screenshot, these five responses should be set up as "Single select numerically-based choices" (as discussed above.)
Of course, you may add additional questions, if desired, but as a minimum these three questions must be included.
How to survey clients
It is important that your survey your clients right at the end of each of your reporting periods. In other words, if your fiscal year is January 1 through December 31st, then you will send your surveys on March 31st, June 30th, September 30th and December 31st. Survey responses will be collected throughout the year.
Note: You will use the same survey all year long. The only thing that will change from quarter to quarter will be the clients being surveyed. However, with the introduction of the new questions, you will need to determine a point in time when you switch to the new survey. This may depend upon your funding with DLA. Once you are surveying under the new 2019/2020 fiscal year requirements you will need to stop using the old survey.
Per the DLA guidelines, you must survey both your clients, and your prospective clients. In other words, you must survey those clients that meet the "DLA Active" requirements, but also those clients that have not yet met the 30 minutes of counseling. Because of this requirement, you will need to create two filters to identify all clients to be surveyed. OutreachSystems recommends that you create a new survey request list on a quarterly basis using these steps:
Once your survey has been created and saved, go to View|Clients.
Click Filter|New to create a new filter.
First, look for all DLA Active clients in the current fiscal year, as follows:

If you have multiple centers, then you may want to include a second filter parameter that searches for the DLA clients across all center.

Click "Apply" to get your listing of DLA Active clients.
Go back to your survey by clicking View|Surveys and identify your DLA survey from the list.
On the survey record, click "New" in the "Survey Request List" panel:

Enter in a name for this quarter's survey that will let you easily identify it from next quarter's survey, and the following quarter's survey. Since you will be using the same survey over and over again, it is important that your survey request lists easily identify the quarter and the year being surveyed. Furthermore, it is very important that you allow clients plenty of time to respond to your survey. If you are surveying clients that were DLA Active during the period of January 1, 2018 through March 31, 2018, then your survey response period should be open from April 1, 2018 - June 30, 2018. In other words, you give them an entire quarter to respond. You will survey the clients again at the end of June and give them another 3 months to respond. This ensures that you have an on-going survey and each time you add clients that were DLA active. Click "Save" when finished:

Now you will need to "Import" the clients that you just filtered.
Choose "Import from a filter" and select "(Current client filter)" as your filter criteria:

Next we go and create our second filter by click View|Clients once again.
Click Filter|New
Create the following filter to find all clients that have been counseled but who have not yet met the DLA 30 minute requirement:

Again, if you have more than one PTAC center in your database, then you will want to modify the above filter to search across all centers.

Go back to your survey by clicking View|Surveys and identify your DLA survey from the list.
Now choose the same request list you just created in step 7 above. Do not create a new request list.
Repeat step 8, and "Import" the clients that you just filtered. Any clients that may have been in both filters will only appear once on the request list.
You are now ready to email your clients! On the survey request list click the "Email" link to initiate an email to the clients on the survey request list. We recommend that you email all contacts within the companies being surveyed:

OutreachSystems recommends that you email the clients at the start of the opening period of the survey, but to increase your overall response rate, you may also want to send a reminder email 2 weeks later that excludes those that have already responded:

For more information about the special email substitution variables available in your survey email templates please refer to this FAQ.

It is important to realize, that even if you don't send them a survey reminder, clients will always have access to their survey on eCenter Direct and they can respond multiple times, throughout the year.
OK, now sit back, and wait for the responses to start rolling in. If you are curious as to who has already responded and who has not, then you can sort by the "Response" column (see orange highlight) or you can get a client list of Respondents/Non-respondents by clicking on the "Clients" command in the upper right hand corner:

How do I determine my average score?
Assuming that you have created a new survey list for each quarter then your "Survey Request List" panel on your survey record will show each list along with the ability to look at "All" responses together. When you hover over each name you will see the graph icon to the right of the name:

Clicking on the graph icon, you will see the results for the responses pertaining to that survey list. Clicking on the graph next to the "All" option will give you all the results for all the periods surveyed. The results shown will include your average for each line item: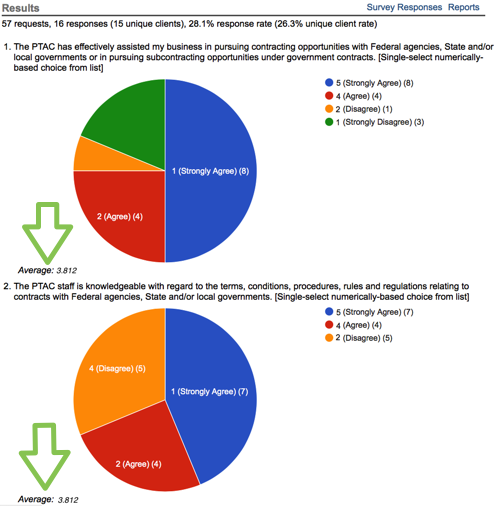 At the top of the results screen you will also see a link to view the detailed responses and the ability to generate reports.
Alternatively, you can also scorecard the questions to get your averages as discussed in this FAQ.


Want more? Browse our extensive list of Neoserra FAQs.