What milestones are automatically created when a client edits their information on eCenter Direct?
A client's primary contact and/or business owner(s) can edit their company's information on eCenter Direct and they can optionally sign the client agreement if none exists, or it has become out of date. They will need to log into eCenter Direct using their email address and password. Once logged in, they can edit either their contact information and/or the business information: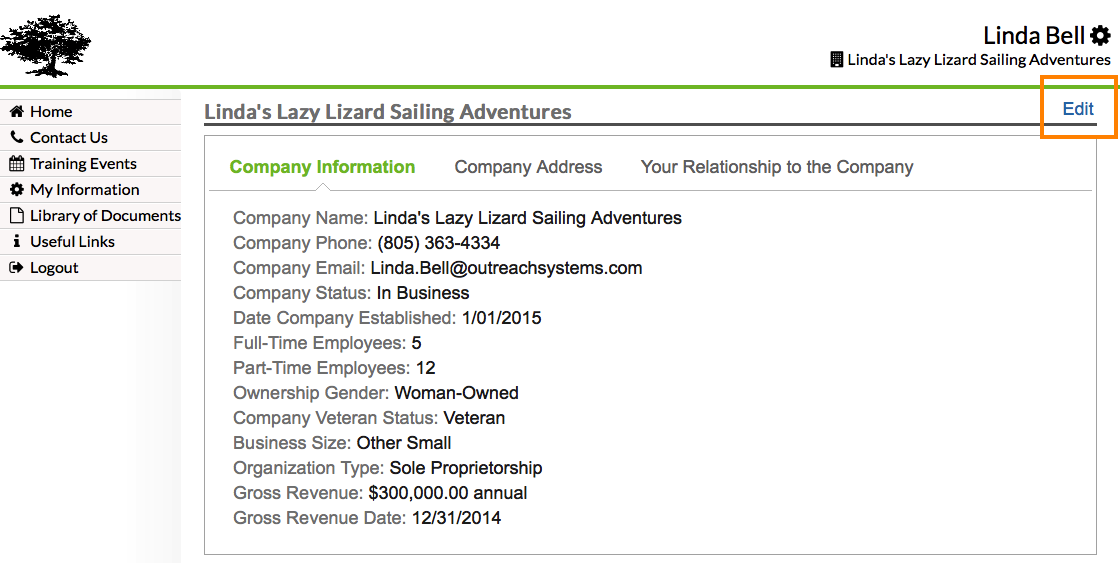 Anytime a client edits their information on eCenter Direct, an email is automatically sent to the client's primary counselor letting them know the changes that were made: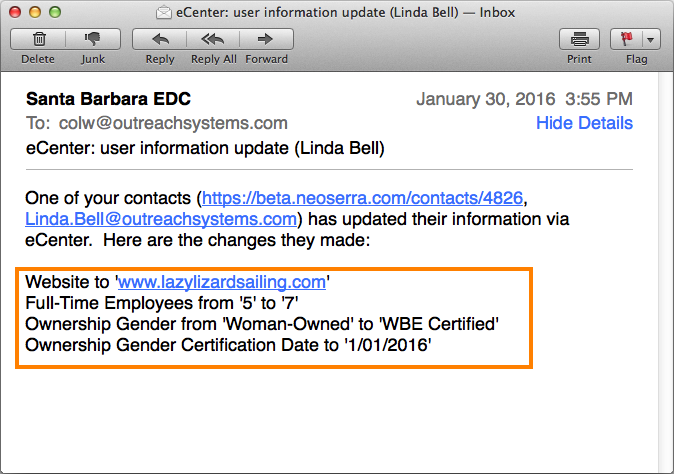 The changes are also automatically logged in the client's data stream: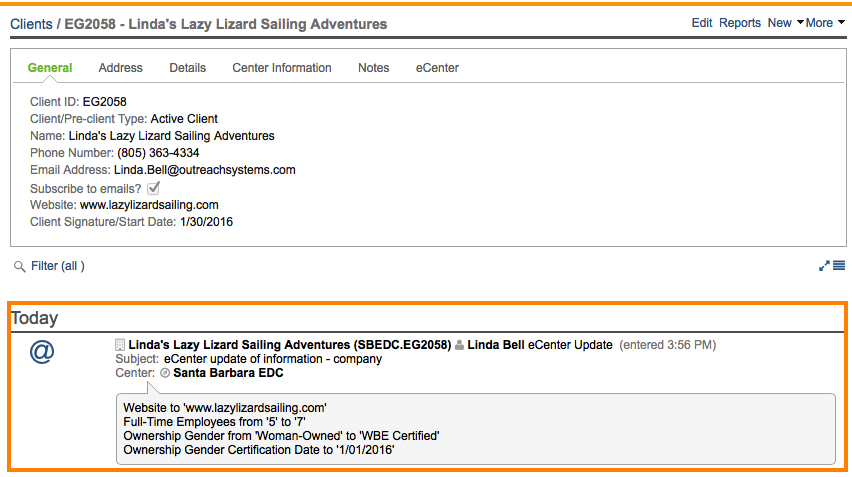 These eCenter Update "sessions" can also be accessed from the Activity menu. Click Activity|eCenter Updates to see all activity in your database that originated from eCenter Direct. Here you can filter for all newly created clients and/or contacts, and you can also find all "Information Updates" that have occurred for a particular period of time: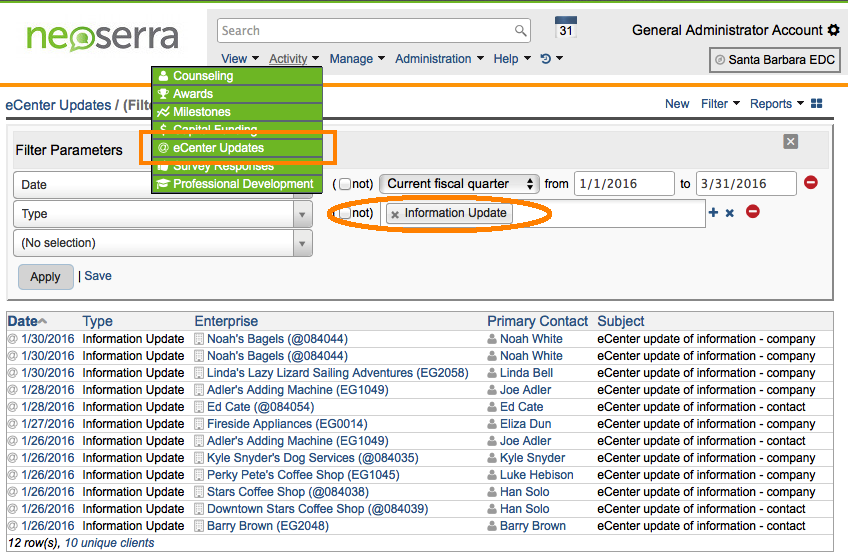 Edits to phone numbers, email addresses, street addresses, etc. are logged in Neoserra as having been edited by the client, but they will not trigger the creation of a corresponding milestone. However, edits made to some of the fields will trigger a milestone. Edit to the following fields will trigger a corresponding milestone(s):
| | |
| --- | --- |
| Field Edited | Milestone Updated |
| Business Status: Not-in-business to In-business | Business Start milestone |
| Full-Time Employees | Increase in Full-Time Staff milestone |
| Part-Time Employees | Increase in Part-Time Staff milestone |
| Export-Related Employees | Increase in Export-related Staff milestone |
| Gross Revenue | Increase in Sales milestone |
| Gross Exported-Related Revenue: | Increase in Exports milestone |
| Profits/Losses | Increase in Profits milestone |
| Organization Type | Changed Legal Form milestone |
| Disadvantage Status | DBE Certified/MBE Certified/Self-Certified milestone |
| Ownership Gender | WBE Certified/WOSB Certified/EDWOSB Certified milestone |
Whether these milestone are reported as reportable or not, is determined by your Global eCenter Settings. Administrators, in administrator-mode, may configure all eCenter-generated milestones to be non-reportable, by editing the "Record all eCenter generated milestones as reportable?" field found on Administration|Configuration|eCenter Settings page.
Six of the above referenced milestones may also trigger the eCenter Direct attribution dialog as discussed in this FAQ:
Full-Time Employee Numbers
Part-Time Employee Numbers
Export-related Employee Numbers
Annual Gross Revenues
Annual Export Revenues
Annual Profits
There are only a few fields that the client cannot edit on eCenter Direct if they are in business:
Company Name
Date Company Established
Company Status
eCenter Direct does not allow the client to change their company status from in-business to pre-venture. Often, clients do not fully understand what it means to be in-business or not to be in-business, and the counselor should make this change in Neoserra, if appropriate.
Want more? Browse our extensive list of Neoserra FAQs.