How do I send an email to all of my active clients?
A link to all of your active clients can always be found on the Neoserra home page in the upper right hand panel: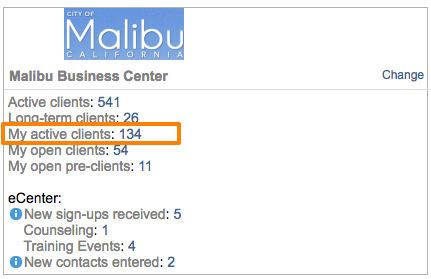 Click on the "My active clients" number and this will bring you to the client view with all of your active clients shown on the screen:

Note: If you want to send an email to all active clients in your center, then click the "Active Clients" link on the home page instead. If you want to email a subset of clients in your database, then you should first create a custom filter as discussed in the FAQ titled: "What is a filter, and how do I use one in Neoserra?"
If you are ready to send the email then click the "Email" link in the upper right hand corner of the screen. You will need to decided which email address you want to use: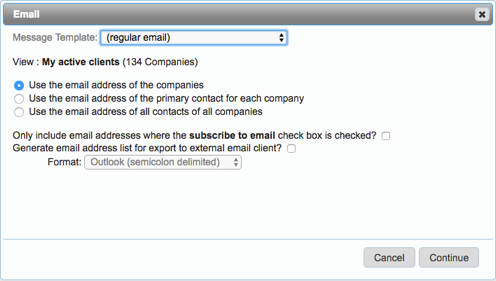 Next, you will need to decide if you want to use the Neoserra email application or your own default email application. If using the Neoserra application then click Continue to formulate your email and send it. To send your email using your default email application such as Outlook, Google Mail or Mac Mail, make sure you check the "Generate email address list for export to external email client? " checkbox and choose the format you want. Once you have checked this box, then click "Continue" to get to the following interface: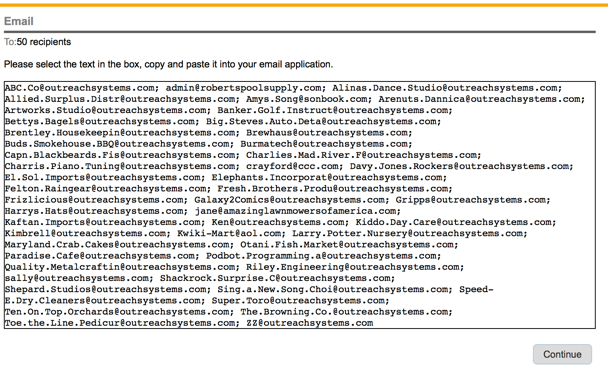 From here you can cut and paste the email addresses and bring them into your external email application.


Want more? Browse our extensive list of Neoserra FAQs.