How do I customize my summary filter view?
Neoserra allows you to customize the summary view of all your various data records. For example, by default, Neoserra will show you the following summary listing of client information:

By default, the client view shows:
Client ID
Company Name (Enterprise)
Primary Contact
Last Counseling Session
Company Phone
Company Email
However, it may be that you want to have a quick overview of all your clients by business size, or by congressional district. You can run a report to get this information but sometimes it might be nice to organize the screen to provide this information.
To change the columns shown in the summary view of one of your data types, you can select Filter|Customize at the top of the screen. This will provide you with an interface from which you can select which fields you want shown in the summary view: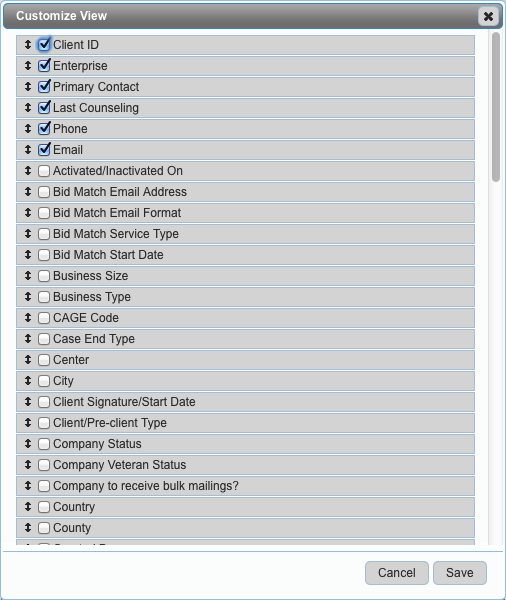 Since you have limited horizontal real-estate to work with, you may have to turn off some fields that you don't need to see in order to include other fields that you do want to include. In the example below, we have turned off the default company phone and email address and instead we included business size, city and CAGE code information in the filter view:

To reset the view to the default simply select Filter|Customize and scroll to the bottom to select Restore to default. However, if you like your new view, then you can Make this the default setting for you. It will not affect the view that other users will see.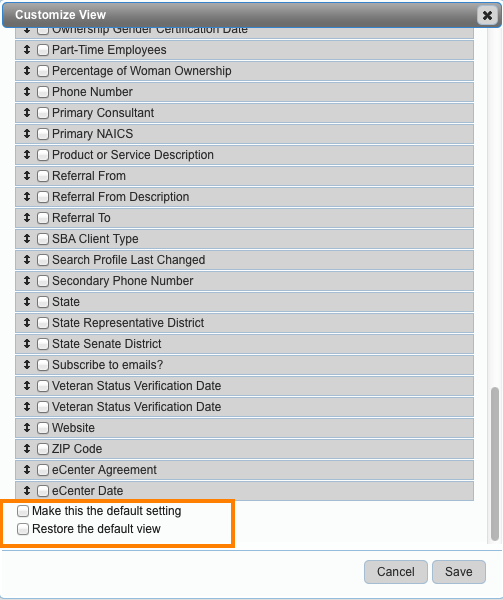 The customization of the filter view works on all data types, including clients, as shown above, and contacts, counselors, centers, training events and surveys, all of which are found under the "View" menu option. But you can also customize the summary view of activity data such as, counseling, awards, milestones, capital funding, inquiries survey responses, and professional development. All of these are found under the "Activity" menu selection. The below graphics shows how the default capital funding summary filter view has been enhanced with the "Institution" and "Amount Requested" columns.

You can change the order of the columns by dragging the up-and-down arrow next to each field to its desired location: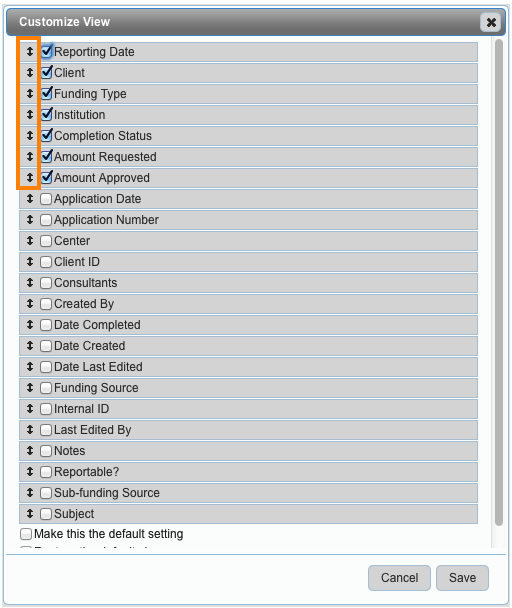 Quick Reports
Under the "Reports" menu option you will see an option to run a report, as well as an option to run a "Quick Report." The quick report is specifically designed to work together with the view customization capabilities. By using these two features together you can quickly and easily create output that meets a specific need.
The way the quick report works is that it gives an exact data dump of what is shown on the screen. In other words, if you have added/deleted some fields to one of the summary views in Neoserra, then the Quick Report option will generate output that looks just like your screen (in PDF format gray bars are added for easy reading.) For example, if we were to run a quick report on the capital funding view shown above, the report would look like this:

The above report is shown in PDF output format, but you can also create CSV output for easy manipulation of data.


Want more? Browse our extensive list of Neoserra FAQs.