How can I manage my clients appointments using the Neoserra calendar?
Neoserra has a calendar feature that allows you to manage all your client appointments, made from Neoserra. The Neoserra calendar can be integrated with your default calendar such as your Microsoft Outlook calendar or your Google calendar. In this FAQ we will discuss how you can manage your appointments on the Neoserra calendar. Keep in mind that the Neoserra calendar is not designed to manage your private and personal appointments - the calendar will only show you client appointments and the training events for which you are one of the instructors.
You can view your calendar by clicking the calendar icon found at the top of the Neoserra interface next to the search window:

In this FAQ we will review the following topics:
How do I create a calendar appointment?
In order to use the Neoserra calendar effectively, your system administrator should turn on the "Prompt for client follow-up sessions" checkbox found on the General Settings page under Administration|Configuration. This feature will prompt you, upon saving a counseling or milestone session, to set a follow-up with your client(s):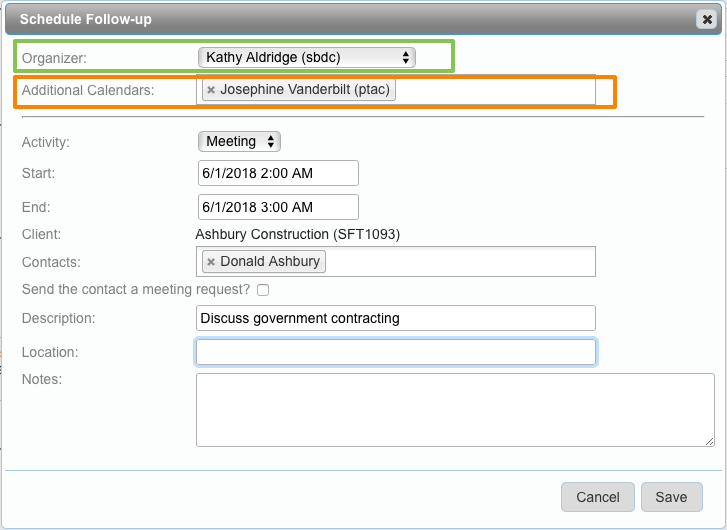 You can also go to a particular client record and choose More|Schedule Follow-up to schedule an impromptu appointment that isn't a result of a counseling session/milestone.
The fields found on the calendar interface are described below:
Organizer - By default, you will see your own name in the Organizer field. However, you can also use this drop down selection to make an appointment for someone other than yourself assuming they have given you permission to do so under their personal preferences. System administrators can always use this drop down to make appointments for any user in the database. Similarly, depending upon your personal preferences, some users may be able to make appointments for you. More on this below.
Additional Calendars - If you are making a calendar appointment for yourself but you also want to invite one or more of your colleagues then you can use the Additional Calendars field. The list of names presented in the Additional Calendars field is limited to active users in the database who are associated with a counselor record to which you have view permissions.
Activity -The "Activity" drop down lets you determine the type of appointment you are making, either a phone appointment, an email appointment and in person meeting, or a task.
Start/End - Select the start and end dates of your meeting and set the time using the sliders:

Client - The client will be pre-selected based upon the client that you are working on.
Contact(s) - If there are multiple contacts within the client record, then you can select the specific contact with whom you are making the appointment. Simply put your cursor in the field and start typing the name of the contact. Assuming the contact has been entered in the database then their name will appear.
Send the contact a meeting request - If you would like to send a meeting request email to the contact(s) selected in the previous field, then check this checkbox.
Subject - Use the "Subject" and "Notes" fields to describe the purpose of the meeting.
Location - Use the "Location" field to identify the location of the meeting.
Notes - Use the "Subject" and "Notes" fields to describe the purpose of the meeting.
Assuming you have configured your personal preferences as discussed in the FAQ titled: How do I set my personal preferences such as language, time zone and layout of my Neoserra interface?, then your Neoserra calendar appointment will be synchronized with your default calendar.
How do I allow others to work with my calendar?
By default, you will see your calendar and your appointments when you click on the calendar icon at the top of the screen. However, you may also be able to view the calendar of your colleagues, assuming they allow you to view their calendar as configured under their personal preferences. If you have permissions to view the calendar of your colleagues then you will see the drop down to their calendar in the right hand corner of the calendar interface:

Similarly, you can configure your colleagues to be allowed to view, edit or add appointments on your calendar. Users with edit permissions to your calendar can then also delete your appointments. When someone makes an appointment on your behalf, a message will appear in the Neoserra Message Center:

The Message Center will be updated each time an appointment is made or edited. And, assuming that you have turned on calendar sharing, then your default calendar will be updated as though you had made the appointment yourself. In other words, if you set up email sharing, then you will also receive an email for any and all appointments made on your behalf by your delegates; if you set up subscription sharing, then the newly made appointment will appear on your calendar automatically.
How do I clear my appointments?
Appointments made within Neoserra will always appear on the Neoserra calendar unless deleted. Additonally, any missed appointments dated within the last 30 days, or appointments coming up today, that have not yet been completed will remain on your Neoserra home page as a reminder. The missed appointments will appear in red:

If you have more than 20 missed appointments, then Neoserra will only show 20 of your oldest missed appointment. You can "complete" an appointment either by making a call, sending an email or meeting with the client via the links provided. When you click the "Call Now" or "Meet Now" links, a counseling session interface will be presented to record your counseling notes. You can also "Dismiss" an appointment which will keep it on your Neoserra calendar but will remove it from the home page and client page and no counseling session interface will be presented. Neoserra will automatically dismiss all appointments that are more than 30 days old.
The More drop down menu allows you to:
Edit - make changes to the appointment
Delete - delete the appointment
Email Reminder - send a reminder to the client about the pending appoinment. The email message needs to be manually initiated and it includes the specific details about the appointment
Individual client appointments are also shown on each client record, and can be edited from here:

If you visit a client record and an appointment has been scheduled with this client by another counselor, then you will still see the appointment on the client record, but the date will appear in red but the edit functionality will not be available:

How can I find all clients with a calendar appointment?
You can filter on calendar appointments in the future. A special filter parameter called: "Calendar Events in the Future" is available from the clients filter interface that allows you to search for all clients with upcoming appointments:

What is the most effective way of using the calendar?
The Neoserra calendar can store not only your actual appointments but also your "reminders". For example, you may meet with a client and agree to touch base again in 2 weeks. This is not an actual appointment that you want on you primary calendar, yet you also don't want to forget to contact the client in 2 weeks. We recommend that you add these types of reminders to your Neoserra calendar, but using the "email synchronization" you decline these types of reminders from being added to your primary calendar so that they only exist in Neoserra. In other words, using the email synchronization you can choose to accept those appointments with clients that are confirmed but not the ones that are simply intended to follow-up with the client. These follow-up reminders will appear in your Neoserra calendar but will not clutter up your default calendar.
Using the Neoserra calendar in this manner would mean using the email synchronization rather than the subscription synchronization, but really it is up to you as to how you want to integrate your Neoserra calendar with your default Google or Outlook calendar.
There are two calendar integration options:
The subscription method works with Google Calendar, Outlook Calendar and iCal just to name a few. To get started, select "Subscription" and then copy your unique calendar URL shown on the screen.
Next, you'll need to subscribe to the Neoserra calendar by using the unique URL you just copied. Depending on your default calendar, this step varies a little:
On iCal, click File|New Calendar Subscription|Paste URL.
On Google Calendar, click Other Calendars|Add by URL|Paste URL.
On Outlook 2013, click the Start ribbon|Open Calendar|From the Internet|Paste URL.
Your calendar program or service might only check the Neoserra calendar every 30 minutes or some times even only once per day. It depends on the calendar and the settings. But if you don?t see your Neoserra appointments showing up immediately, this is why.
As discussed at the start of this section, you can also use the "Email" sharing mode if you don't want every Neoserra reminder on your default calendar. Rather than synchronizing the calendars automatically, using this method you will receive an email confirmation for each appointment made on your Neoserra calendar. The email method gives you control over what appointments to add to your default calendar.
Want more? Browse our extensive list of Neoserra FAQs.