How do I process new sign-ups received from eCenter Direct?
You can either transfer a new request to a different center before accepting them as a client, or you can transfer an existing client to a different center:
How to transfer an existing client to another center?
To transfer an existing client in your Neoserra database from one center to another you should use the More|Transfer Client option: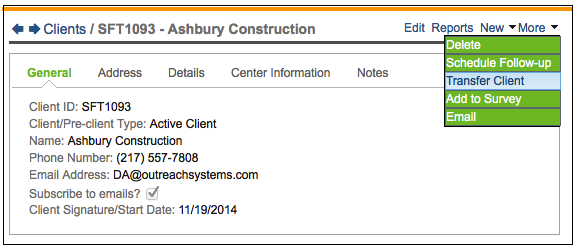 This particular function allows you to transfer a client to another center and also re-assign them to a different counselor at the same time. Furthermore, you can decide if you want to keep the original Client ID number, or whether you want to re-assign them a new ID:

Additionally, you can change the funding source of the client record. This will not affect any of the sessions entered in prior to the transfer, it merely updates the default funding source on the client record itself.
The Transfer Client option is available to all users that have "Edit (including Center)" permissions for the clients being transferred. If the user does not have "View", "Edit" or "Edit (including Center)" permissions to clients at the center to which the client is being transferred, then they will lose sight of the client after the transfer.
If you do assign the client to another counselor, then this new counselor will automatically receive a message in their Message Center letting them know a new client has been assigned to them:

The Message Center notification will appear at the top of the screen next to the calendar icon. The counselor can clear the message from the Message Center simply by clicking the "x" to the right of the notification. An easy link to the client record is also provided.
How to transfer a new request to another center?
When processing a new client request that came into the Neoserra database via eCenter Direct, you will always see a yellow bar across the top of the record: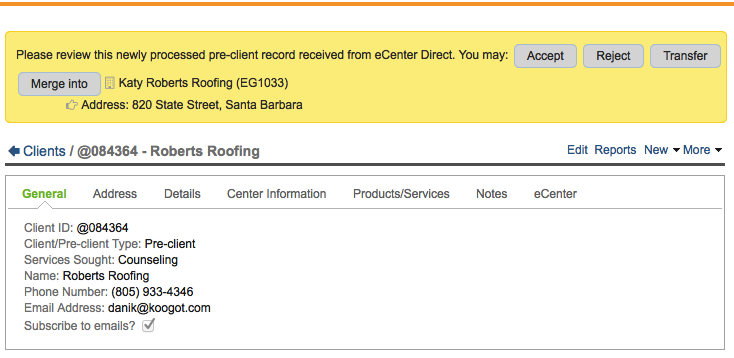 The "Transfer" option is only presented to those Neoserra user with "Edit (including Center)" permissions and the "Merge" option is only presented to those users with "Delete" permissions. The various options are described in more detail in this FAQ but for our purposes we want to explain the "Transfer" option in particular.
If the new sign-up request needs to be transferred to another center you can click the "Transfer" button, which will:
Pop up a dialog box allowing you to choose a center to transfer the client to
Update the "New sign-ups received" numbers on the home page for both centers
Keep the yellow banner from the top of the screen for the new center to process
Want more? Browse our extensive list of Neoserra FAQs.