What are the United States SBA/DLA Settings for under the Administration|Configuration menu option?
There are several default configurations that affect your EDMIS export process. You can find the "United States SBA/DLA" pane under the Administration|Confguration menu. The settings here are intended for both SBA funded programs and DLA funded programs. In this FAQ we will discuss the SBA EDMIS default settings, the ASBDC Impact Survey settings and the DLA 1806 settings:
EDMIS Settings
The first section helps manage your EDMIS settings. Ideally, you review these settings every few months to make sure that the default EDMIS settings are still appropriate for your program. While you may not make a lot of changes to these settings, it is important to review them periodically to ensure that they still accurately reflect the parameters of your program.

EDMISrx Validation Day & Email
EDMISrx is an automated monthly error-checking feature that OutreachSystems provides in conjunction with EDMIS. By selecting a day of the month and an email address for our two EDMISrx settings (shown next), you are registering for this free service. On the day of the month that you select, we will automatically generate a test EDMIS export run and provide you with any warnings and/or errors (if any) from the text export. In the accompanying email message we will let you know if Neoserra has converted any of your unknown or undefined data selections to an acceptable choice for EDMIS. In Neoserra itself, you will be able to view all the errors that Neoserra encountered during the test export. Simply go to Manage|EDMIS|Exports and click to "View" the most recent test export and you will see the errors (if any) on the individual tabs of the export: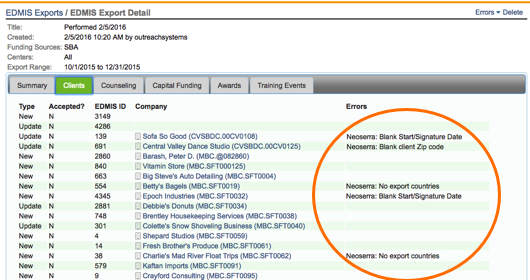 This service is a great way to keep on top of any data correction that may need to take place prior to your actual quarterly export to EDMIS.
In the "Day of the month for EDMISrx validation" field, enter the day of the month when you want OutreachSystems to run a test export for you. Keep in mind that this export is NOT sent to EDMIS, it is solely intended for your internal purposes.
In the EDMISrx email recipients" field, enter the email address(es) of the people who should be receiving the EDMISrx email notification. You can separate multiple addresses with a comma.
2. Center ZIP Codes
This is a rarely used setting that was put into place for programs outside of the contiguous United States where clients are more likely to encounter issues with their region's ZIP Codes being rejected by EDMIS, even though they were valid. This option, when selected, uploads the owning center's ZIP Code (as entered into the center record) rather than the individual client ZIP Codes to get around this rejection. The Check here to include the center's Zip code instead of the client/conference Zip code on all exported records? setting, as a general rule, should only be activated under the guidance of OutreachSystems.
3. Invalid Start Dates
EDMIS requires that a client's signature/start date fall on or before the date of the client's first session, whether that be a counseling session or training session. Neoserra attempts to guard against noncompliance of this rule, but errors can be introduced through atypical data entry activity (i.e. when the user adds sessions after-the-fact, or when a client's application is processed after the training event). When selected, the Automatically convert all invalid start dates to the date of the earliest counseling/training session in reporting period? option corrects any invalid start dates at the time of EDMIS export generation.
It should be noted that this conversion will only affect clients who have not yet been accepted by EDMIS, with sessions in the current reporting period, and only for those sessions matching the "Default Funding Source(s)" listed below on the configuration screen.
It is OutreachSystems recommendation that you turn this check box ON. Why? Because it is quite common to enter or accept a client into Neoserra the day after a training event in which case the client's start date will default to the day that they are added to the Neoserra database. However, in the case of training clients this would not be valid because the event actually took place a few days earlier. Rather than having your users try and back-date the client start date, Neoserra can automatically do this for you if you turn this checkbox on.
4. Invalid Client Types
EDMIS requires that a client's SBA client type (as designated in the client record) match the contact type (e.g. face-to-face, online, etc.) indicated in the client's initial counseling session. As with invalid start dates, Neoserra attempts to guard against this, but errors can be introduced when sessions are added out-of-order. When selected, the Automatically correct invalid SBA Client Type on client record? option corrects any discrepancies at the time of EDMIS export generation.
5. Default Funding Source(s)
This setting allows you define the default funding source(s) for all EDMIS exports. When you initially create an export, its funding source filter will default to whatever is set in the Funding source(s) of activity configuration, but it can always be overridden at the time of EDMIS export generation.
It's important to note that the default funding source(s) chosen here also affect EDMIS validations. Let us explain: Neoserra has several built-in validations in place for SBA-funded counseling sessions and conferences. These validations help ensure that the data in your database meets all the requirements set forth by SBA and the EDMIS system. For example, all counseling sessions uploaded to EDMIS must specify a "Counseling Area", which may not necessarily be required for records not uploaded to EDMIS. By default, these validations are in place for only those counseling sessions and training events that are funded by SBA, but Neoserra will also apply these same validation checks to counseling session and training event records created under any funding sources selected here.
Furthermore, the funding sources selected here will also determine what sessions are included in the long-term client indicators on the home page and on each client's record; and the funding sources are used for the ASBDC Impact Survey.
6. Default Center(s)
The Center(s) to be included in export to EDMIS setting allows you to define the default center(s) for all EDMIS exports. When you initially create an export, its center filter will default to whatever is set here, although you can always override the default at the time of EDMIS export generation.
7. Reportable contact minutes to add for impact milestones (0 for none)
Enter here the total number of counseling minutes you want to assign to an impact milestone:
Bought Business
Started Business
Change in Full-Time Staff
Change in Part-Time Staff
Leaving the default of zero means that you won't automatically assign any counseling time to a newly recorded impact milestone, in which case Neoserra will automatically create an Update session to ensure that you get credit for the impact changes.
8. Require a business to have at least one employee?
By default, Neoserra will always require all SBA funded start-up and in-business clients to have at least one employee per the SBA guidelines. However, the SBA guidelines are actually a bit fuzzy in this respect and some SBDC programs may choose to relax this requirement. If you would like to relax this requirement, then you can uncheck this box, in which case Neoserra will allow you to create an in-business client without any employees. However, please note, that you may risk under-reporting of jobs.
ASBDC Impact Survey Settings
The three ASBDC Settings are designed to help with the ASBDC Impact Survey export process. But before we address these three fields, it is also important to note, that the EDMIS default funding sources and centers (as confiugured above), will also be used for the ASBDC export. Per ASBDC's request and with your express permission, OutreachSystems will create an export file from your database to be used for the national impact survey, which will include your State or Region and the Signatory Name and Title to be used as the name/title from whom the survey will be sent.
DLA 1806 Settings
If your program is funded by DLA, then it is important to let Neoserra know when your PTAC program started with the new DLA 1806-T performance metrics. This date is set to 10/1/13 by default since that was the introduction of the DLA 1806-T pilot program, but this may not have been the date when your program first started to report under the DLA 1806-T requirements:

Since Neoserra does not know when a PTAC is awarded their grant by DLA, it is important that the "DLA 1806-T Historical Start" date is set correctly to correspond to your award start date. Once set, this date should never to be edited again.
Want more? Browse our extensive list of Neoserra FAQs.