How to export attendee details from the training event record to Excel?
From the training event attendee, you can generate a variety of pre-defined reports, including:
Attendance Report
Attendance Sign-in (Name only)
Attendance Sign-in (w/o Fees)
Attendance Sign-in (with Fees)
Attendance Sign-in (with Intent and Address) - DLA funded programs only
Attendance Sign-in (with Intent) - DLA funded programs only
Attendance with Presence Report
Attendee Payments
Training Events Receipt Report
Simply click the Reports button located above the attendee list to generate your report:

The "Reports" link provides access to all pre-defined attendee reports and these reports can, of course, always be exported to Excel:
However, there may also be an instance when you want to export more data than what is offered in one of the pre-defined reports. If this is the case, then you can use the Excel icon to the right of the "Reports" link.
Clicking the Excel icon allows you to specify which contact and/or client fields you want included in your export: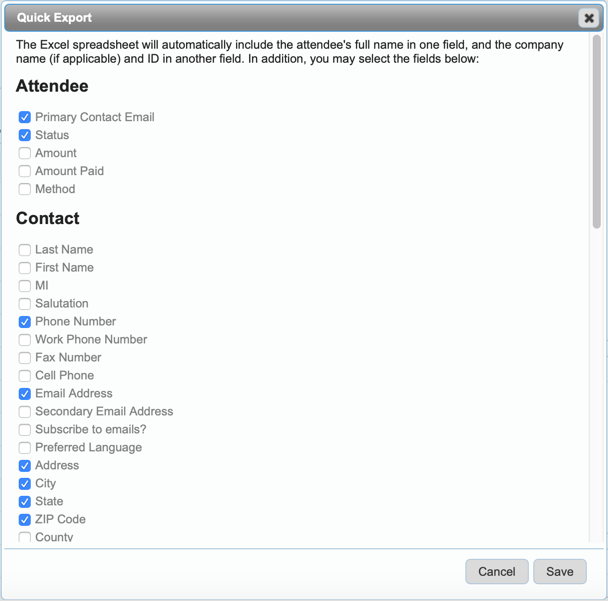 As noted at the top, the person's full name and their company name and ID (assuming they have an associated client record) will always be included in the export file, additionally you can include any of the fields listed.
The Excel export file will include all people included on the attendee list, regardless of their status. In other words, no-shows will be exported along with people who actually attended the event. It will be up to you to slice and dice the data within Excel to meet your specific requirements.
Want more? Browse our extensive list of Neoserra FAQs.