How do I satisfy the SBA National Impact Survey Requirements (formerly called the Chrisman Survey)?
OutreachSystems has programmed the distribution and reporting requirements for the SBA National Impact Survey right into Neoserra. The various reports are all available under the Manage|SBA National Impact Survey assuming your Neoserra database has at least one center marked with a Center Type of "SBDC"":

The Neoserra SBA National Impact Survey module will use the same funding sources and centers as identified under your SBA/DLA Settings available from the Administration|Configuration menu option. These funding sources and centers are the same funding sources and centers also used for EDMIS reporting purposes. If you want to survey clients with different funding sources and/or from different centers than what is submitted to EDMIS, then you will need to update your General Settings.
Generate Numbers for Demographic Data Forms #1, #2, and #3
Demographic Data Form #1
To generate data for the Demographic Data Form #1, open Neoserra' SBA National Impact Survey Reports module under the Manage menu option. For Demographic Data Form #1, you can either use the link titled: "All clients with 5+ hours of counseling" (shown in orange below) or alternatively "All clients with counseling" (shown in green). The most recent instructions dated September 28, 2020 ask to: "include the total number of PV & EX clients on Form 1 (as in long-term AND short-term)." You will need to decide if you want to report the 5+ hour clients or all clients with activity.
Click on the link to open the client filter. With the clients on the screen click the "Reports" link in the upper right hand corner of the interface, and choose Reports|SBA National Impact Study Demographic Data":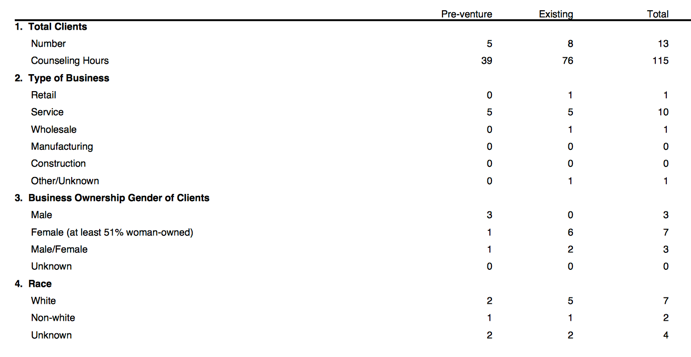 Demographic Data Form #3
Neoserra can only provide you data for line items 1a and 1b on the Demographic Data Report #3. Line item 1b can be obtained from the Demographic Data Form #1 as generated from Neoserra, while line item 1a can be obtained from line 25 (Total Client Hours) of the Economic Impact Scorecard.
Want more? Browse our extensive list of Neoserra FAQs.