What data fixes are made by Neoserra in my EDMIS export file and what errors can I resolve before I upload to EDMIS?
Neoserra will try and avoid letting the user create invalid records in the database. However, there are certain instances when Neoserra cannot catch the error at the time of data entry. This is particularly the case, when the user enters client data "out of order". Meaning the follow-up session is created before the initial session. This is particularly the case when the postbox feature is used, but it also happens when users enter data manually out of order. During the EDMIS export process, Neoserra can still alert you to these potential errors.
Furthermore, there are some options that are allowed in Neoserra but these options are not supported within the EDMIS system. For example, in Neoserra the user is allowed to choose "Unknown" for the business ownership gender, but EDMIS does not support this option. During the EDMIS export process, Neoserra will export this data with an acceptable value without changing your underlying data. In other words, Neoserra will export the data in a format that EDMIS will accept, but it will not change the client record in the database.
In this FAQ, we will list out the errors that Neoserra tracks before the data is even exported to EDMIS, and we will also list out the code changes made by Neoserra in your export to EDMIS.
Neoserra Error Logging
The following list of errors are reported in Neoserra immediately upon creating the export. These are errors that Neoserra is aware of prior to you even uploading your data to EDMIS. The errors are listed in your Neoserra Export interface: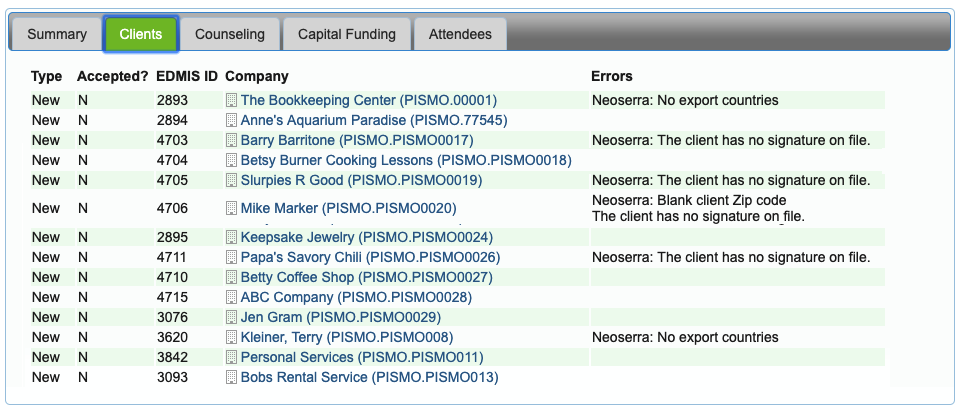 The errors Neoserra checks for include:
Bad Zip Code *
Blank Zip code *
Blank Start/Signature Date *
Start/Signature Date in future *
Start/Signature Date after 1st session *
No Signature on file
Established Date blank for in-business client
Established Date in future for in-business client
No Export Countries for exporters
Client has Award/Capital Funding before 1st counseling/training
Client only has Award/Capital Funding session
Client has prior session cannot have initial dated after
Insufficient contact hours for initial
Insufficient contact hours for follow-up
Out of range contact hours (must be between 0-99999)
* You will notice that the first five possible errors listed here may not appear in your database if you have the following configuration settings enabled:
Check here to include the center's ZIP code instead of then client/event ZIP code on all exported records?
Automatically convert all invalid start dates to the date of the earliest counseling/training session in reporting period?
Neoserra Error Correction
As noted above, Neoserra will only correct these errors for purposes of creating the EDMIS export file. It will not make any permanent changes to your database. These data corrections are emailed to you as part of the EDMISrx process and they are included in the YYYYMMDD-HHMMExportLog.txt file shown in the margin: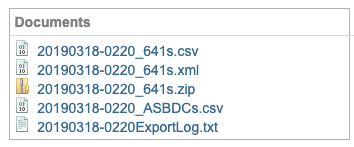 If SBA Client Type = "Undefined" then client is exported as Face-to-Face
If Ownership Gender = "Undefined" then client is exported as "Male-owned"
If Established Date os set to date prior to 1/1/1900 then date is change to 1/1/1900 (EDMIS does not accept dates prior to 1/1/1900)
If Contact Type = a custom type then session is exported as Face-to-Face session
If Client has Initial Session after follow-up session then session is exported as Follow-up
Want more? Browse our extensive list of Neoserra FAQs.