How can I identify and then capture a signature from my clients who never signed the terms and conditions on my client agreement?
This FAQ explains how you can obtain a signature from a client who already exists in your Neoserra database but who, for whatever reasons, has not yet signed your agreement. There are a variety of different methods for capturing signatures:
Option 1: Send Email with Signature Request
Neoserra offers a specific email template titled: "Request Online Agreement" which can be used to send to clients to request an electronic signature to your terms and conditions: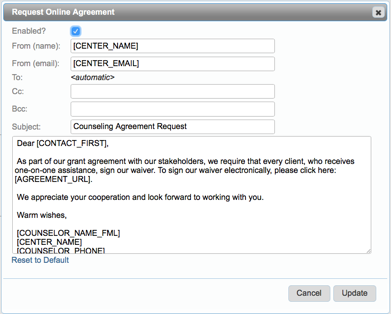 You can either send this email as needed from the Neoserra email system, or SBA-funded programs can also invoke this email from the yellow warning bar that will be displayed at the top of a client record when no eCenter Signature Date has been recorded. In the image below you will see two different clients:
Bedrock Stone Yard: Neoserra has recorded an electronic signature for this client, and no yellow warning bar is issued at the top of the record.
Kannon Graphics: Neoserra does not know whether the client has signed your terms and conditions and thus, a yellow warning bar is issued at the top of the record: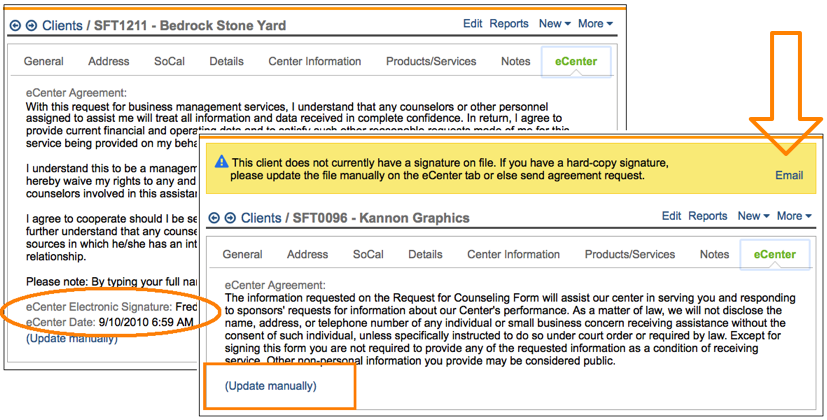 As discussed in the next section, you may have a hard-copy signature on file for the client that Neoserra does not know about. If this is the case, then you can let Neoserra know by clicking the "Update Manually" link.
Note: This yellow warning is only applicable to SBA-funded programs. If you wish to suppress the yellow warning then you can disable the email template.
Option 2: Obtain Hard Copy Signature
In today's day and age, we try to obtain as much electronically as possible, however, some clients may send you a hard copy of the client agreement. If you have received a paper (i.e. non-electronic) acknowledgement from the client, indicating that they agree to your latest terms and conditions, then you can either edit the client record and add a signature date to the record, or alternatively update their eCenter Date manually by clicking on the "Update Manually" link on the eCenter tab (as shown above) of their client record.
In either case, the client record will be updated to reflect that the agreement is available on file, and the warning bar will disappear from the client record. The user should probably also upload the signed agreement to Neoserra to complete the paper trail.
The "Update Manually" link will additionally invoke the milestone interface, where you can record the fact that the signed agreement is available offline and add additional comments: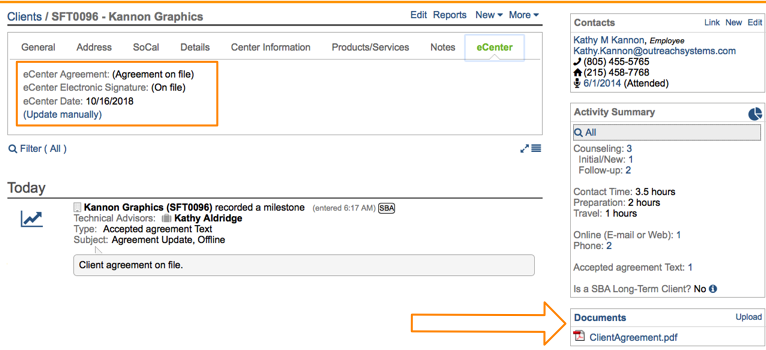 Note: Since this is the generic milestone interface, the "Amount" field is also displayed. For purposes of the agreement text, this field can be ignored.
Option 3: Obtain Agreement Reactively from eCenter Direct
Even if you don't send an email to your clients, eCenter Direct can still help you obtain an updated agreement from your clients. Clients will be presented with a reminder to sign your center's agreement, if:
They don't have an eCenter Date on ther client client record; or
If their eCenter Date on their client record is dated prior to the Agreement Text Revision Date
The reminder is not intrusive in any way, but gently reminds your clients to sign the agreement for each company for which they are either the primary point of contact or the business owner: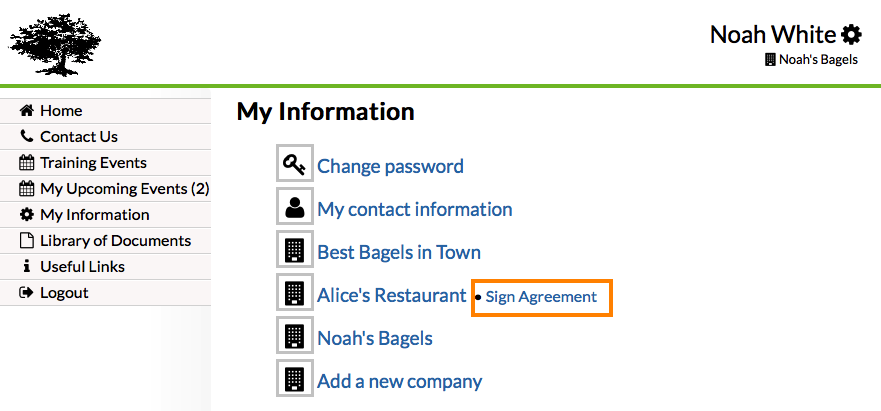 Want more? Browse our extensive list of Neoserra FAQs.