What is an update session?
First of all, an update session is only applicable to SBA-funded programs. In other words, only Neoserra databases containing centers with the following center types will see these update sessions:
The purpose of an update session is to submit critical client updates to EDMIS without any other counseling session details. The critical updates include:
Started or Bought Business
Change in Full/Part-Time Staff
Change in Sales/Profits
Change in Exports
If/when a client's business status, jobs or sales revenue figures are updated; AND there is no counseling session already created for the client on the same day that the update is made; BUT there is either counseling and/or training activity prior to the update, then Neoserra will automatically create the update session. In the absence of a true counseling session, the update session provides the mechanism by which EDMIS is updated with the latest demographics of the company. The update session is generated for both active and inactive clients, but it is not generated for pre-clients.
The update session will appear in the data stream and could potentially be deleted, but it cannot be edited. Update sessions are always system generated and cannot be created by the user. An update session, by definition, cannot include any time.

The update session will always be assigned to the counselor record belonging to the user who made the edits to the client record. If the user account is not associated with a counselor record, then no counselor will be assigned.
Two custom filters are available to find all update sessions in the database. If you go to Activity|Counseling and then select Filter|New you will notice the following two filter options: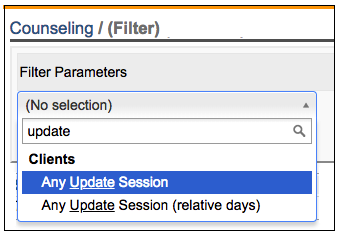 Want more? Browse our extensive list of Neoserra FAQs.