How do I satisfy the OWBO Annual Survey Requirements (issued by SBA not AWBC)?
OutreachSystems has programmed OWBO Annual Survey requirements right into Neoserra. The report is available under the Manage|OWBO Annual Survey assuming your Neoserra database has at least one center marked with a Center Type of "WBC":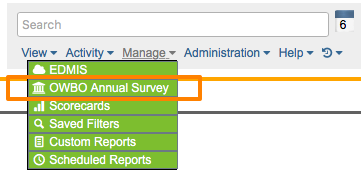 The Neoserra OWBO Survey module will use the same funding sources and centers as identified under your General Settings available from the Administration|Configuration menu option. These funding sources and centers are the same funding sources and centers also used for EDMIS reporting purposes. If you want to survey clients with different funding sources and/or from different centers than what is submitted to EDMIS, then you will need to update your General Settings.
To run your OWBO Survey report all you need to do is follow a few easy steps, outlined next:
Click Manage|OWBO Annual Survey
Click "Prior Years" and select the year for which you want to run your survey
The Excel report will be generated to the screen and can be downloaded and mailed to owbcsurvey@sba.gov
If you are just answering the preliminary survey then you can open the Excel spreadsheet and scroll to the bottom to find your total number of unique (unduplicated) clients served.
The report will include unique clients that have participated in either counseling or training services at the center. The following columns are included on the report:
Primary First
Primary Last
Primary Email
Primary Phone
First Session Date
Business Status at time of First Session
Company Name
Company Start Date
Business Type
Primary Ethnicity
Primary Race
Primary Gender
The "First Session Date" will either be the first counseling session or the first training date that the client attended.
NOTE: This SBA OWBO Survey is not the same as the AWBC survey which is discussed in this FAQ.


Want more? Browse our extensive list of Neoserra FAQs.