How do I find all clients who have not been reading their bid matches?
Clients whose bid match Output Format has been set to Web mail (mybidmatch.com) will have a private mybidmatch.com page where they can view their daily bid results. In fact, their mybidmatch.com page stores up to 30 days of bid match results for each client. If a client is setup to receive their bid matches via the Web mail then they will receive notification e-mails from your program whenever new bid matches are available. These e-mails will link the client to their own personal page on OutreachSystems' mybidmatch.com Web site, where they can view the newly posted bid matches as well as all bid matches posted in the last 30 days. But how do you know if a client is actually going to their private mybidmatch.com page? This FAQ will review the two methods you can use to monitor your clients' access of their mybidmatch.com page:
Accessing my Center's mybidmatch.com Master Index
Your center has a "master" mybidmatch.com page where all individual clients' mybidmatch.com pages can be accessed. The master view can be accessed from any bid matching client record by clicking on ther Outreach Account number shown next to the "Master Index" label in the Bid Match panel in the right hand column of the client stream: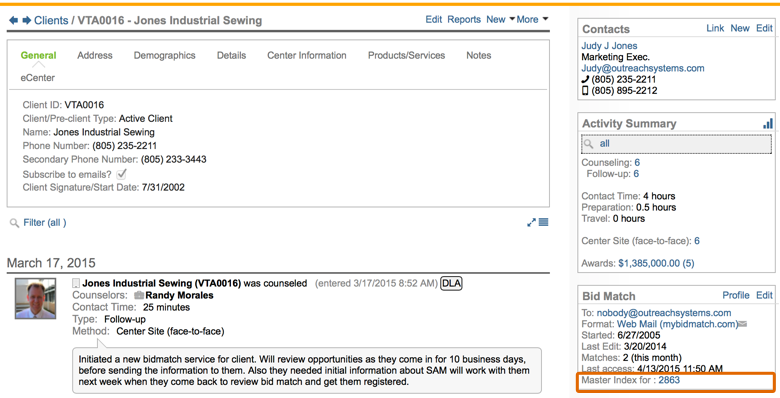 From here, you can sort the clients by "Last Access Date" by clicking on the column header:

The same last access date is also included in the Bid Match panel on the client record. Clients that have not accessed their bids for more than 10 days will be flagged with a red warning icon:

Filtering for clients that have not accessed their bid matches
In addition to looking at your master mybidmatch.com page, you can also filter, within Neoserra, for those clients that haven't looked at their bid matches for a certain period of time. To find these clients within Neoserra simply follow these steps:
First, click on the Neoserra logo to return to the home page.
Next, click on the "Active Bid Match" link:

This will provide you a listing of all your bid match clients. You will want to modify this filter to only look at those bid match clients that have not read for X number of days. To do so, click on the "blue ribbon" to open up the existing filter.
Add a second filter parameter to search for "Last mybidmatch.com Access," and enter in your date period, as appropriate, and then check the "not" checkbox because you only want to see those people who have not read during this period:

Click Apply to see your results. The list of clients will represent all clients who have not accessed their private mybidmatch.com page during the period you specified. This list does not include the people who have never accessed. Keep in mind that the folks that have never accessed could be those clients who recently were set up and/or those clients who have not received any bid matches yet.
If you want to search for all clients who have never accessed their my bidmatch.com page, then you can change the filter parameter as follows:

Note, that the "not" checkbox has been turned off and the date range is set to "Custom" with blanks is the date fields. Clicking Apply will give you the list of clients who have never accessed.
Want more? Browse our extensive list of Neoserra FAQs.