How do I attach a top-level sticky note to my client record?
Sometimes you may want to add a note to a client record that is not directly related to the client or to a specific counseling session. For example, you may want to post a reminder for yourself to ask a client about a recent vacation that they took, or you may want to remind yourself to get an updated agreement from the client. An electronic version of a sticky note that is only visible within Neoserra to you or to you colleagues of you choose to share it with them.
How do I add a sticky note?
To add a sticky note go to the appropriate client record and click More|Add Sticky Note: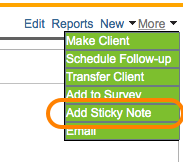 The following interface will be presented in the upper right hand corner, at the top of the right panel:

You can enter your note and then save the note or remove it:

Once saved, it can also be shared with others:

A private note, that is visible just to you, is always shown in yellow. A note that is visible to others, is shown in salmon. Keep in mind that you are the only one who can delete those sticky notes created by you. So while your note may be visible to others, it needs to be removed by you, if it is no longer applicable.

To make the note private again, click the "Make Private" icon:

Want more? Browse our extensive list of Neoserra FAQs.