How do I create a batch of counseling sessions (en masse)?
The ability to batch counseling sessions is great for documenting an outreach effort on behalf of a large number of clients. For example, if you send a letter to all woman-owned businesses that details relevant changes in government contracting; or host a conference call for veteran-owned businesses, you can create a single counseling session and have Neoserra apply it to each woman-owned or veteran-owned business included in the outreach.
Since most of these batch type sessions are informational, rather than company specific, they are, by default, recorded as non-reportable.
Non-reportable counseling sessions are identified in the Neoserra data stream with a strike through the funding source, and the funding source identifier is also shown in red: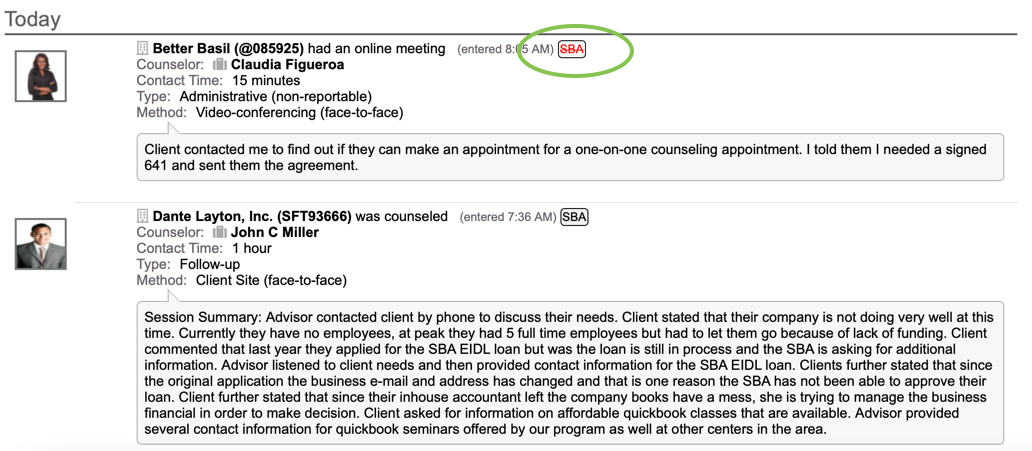 And although we often refer to this function as "creating a batch of counseling session records" or "the batch sessions feature," these descriptions are a little bit misleading. You're not really creating a batch of counseling session records. You're creating a single counseling session record with multiple clients attached to it.
But whether there are 50 identical counseling session records in your database or one counseling session record with 50 clients attached to it, the effect is exactly the same. When reporting on counseling sessions by client, counselor, or center, Neoserra treats a counseling session with multiple attendees as multiple counseling sessions.
The batch counseling session feature is only available to administrators who are in administrator-mode. However, a non-adminstrator can create multiple counseling sessions at once when using the mass email feature, as discussed in the FAQ titled: How do I save my email message as a counseling session?
Follow these steps to batch counseling sessions:
Select View|Clients,
Create a client filter that consists of the clients that you will be creating the batch of counseling sessions for (e.g. all Service Disabled Veteran owned businesses).
With your filter results on the screen, select More|Counseling

Create the counseling session record as appropriate. You can add/delete clients from the session, if necessary. Once the session is complete, save it.
It is important to realize that any time associated with a batch counseling session will be multiplied by the number of clients included in the session:

DLA specifically prohibits this, which is why Neoserra will default the batch counseling sessions always to non-reportable.
Note: If the type of counseling session you are trying to create is a close-out session, then we strongly recommend that you use the custom feature designed for this function as described in the FAQ titled: How do I inactivate (close-out) multiple clients at the same time?


Want more? Browse our extensive list of Neoserra FAQs.