What is the bid match email address and how can I update it?
If your Neoserra database has been configured to allow bid match search profiles to be setup, then OutreachSystems will deliver the daily bid match email messages to your clients via email. The email address used for the bid match may be the same or may be different from the company email address but its specific purpose is to tell the bid match system where to deliver the bid matches to, which is why it maintained in its own field. In Neoserra, you will see the bid match email address in the right hand Bid Match panel of the client record: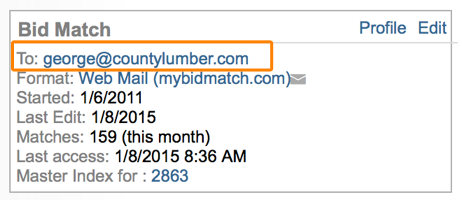 The search profile itself, will also contain this same email address in the option transport statement, which appears at the top of each client's search profile along with the output format as described below:

The bid match emails can go to one or more email addresses. The email field in Neoserra supports up to 250 characters. Multiple addresses should be separated with commas (no spaces). Email addresses themselves cannot contain a space and Web site URLs cannot be used.
There are two different email output format options:p>
HTML format
Web Mail (mybidmatch.com) format
You will determine the output format for each client on the profile setup or edit page.
HTML email Delivery
The first output format is fairly self-explanatory in that a client's bid match results are directly emailed to them in an attractive HTML formatted message. The client will receive a complete copy of each bid abstract as it was advertised by the agency. Clients who receive multiple bid matches each day may soon ask to switch to mybidmatch.com which is the preferred delivery option because of its more concise and streamlined format.
Web Mail (mybidmatch.com)
If your client is set up under this putput format , they will still receive notification emails from your program whenever new bid matches are available. But rather than including the entire bid notice in the email, the client will be given a link to their own personal page on OutreachSystems? proprietary mybidmatch.com Web site, where they can view the newly posted bid matches as well as all bid matches posted in the last 30 days.
One of the big benefits of this method is that you too will have access to this bid match directory so that you can track the bids your clients are matching on. Your center has a master mybidmatch.com page where all of your web delivery clients are listed. You can find your master mybidmatch.com link in Neoserra on any client record in the Bid Match panel: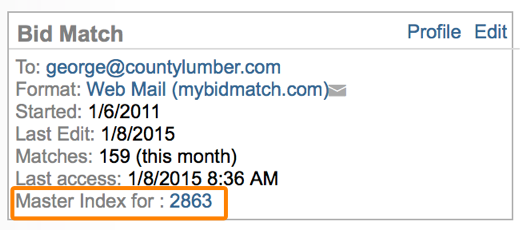 Changing email Address(es)
You can change the email format or the email address directly on the profile edit page and the change will immediately go into effect for your client's search profile. You don't even have to write a message in the comments box, although we always like to hear from you! This will work if you are adding email addresses, deleting email addresses or even changing email addresses.
When you edit either of these two fields, Neoserra automatically generates a change notification message to the OutreachSystems Bid Match system and the profile will be updated with the new email addresses and/or email format. To confirm OutreachSystems' receipt and processing of your request, look for the automated confirmation message that will arrive within the hour at the default email address you have designated for your Bid Match program.
Want more? Browse our extensive list of Neoserra FAQs.