How do I enter Training Attendee Demographic information in Neoserra?
By default, Neoserra will assume that you are using Neoserra and eCenter Direct exclusively to manage your training attendee list. If this is the case, then Neoserra will automatically update your demographic and fee information for all attendees on the attendee list. Neoserra will pull this demographic detail from each attendee's contact record and show the demographic information in the right hand panel: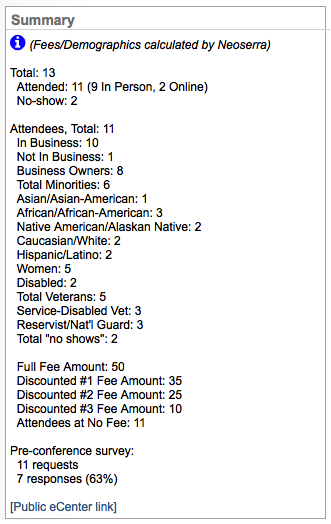 Similarly, it will pull the fee information, as entered on the attendee list, and update your fees collected.
However, we realize that there are other applications that help with event registration. These applications are, of course, not integrated with Neoserra, and for this reason, you will need to manually update the demographic details of your attendees when they are not entered into Neoserra.
Thus, if your Neoserra attendee list does not include all attendees for a particular event, then you will not want Neoserra to attempt to update your demographic information. Instead you will want to UNcheck the "Neoserra will calculate all fee and attendee demographic data based upon attendees listed?" checkbox that is found under the "Demographics" header on the main page of the training event:

By unchecking this checkbox you will see a number of changes in the interface:
The demographic and fee fields will now be available for editing on the edit form

The summary pane will clearly highlight the fact that the demographic data has been hand-entered and cannot necessarily be reconciled with the contacts in the database
It is important to note, that by default the "Neoserra will calculate all fee and attendee demographic data based upon attendees listed?" checkbox is always turned on when creating new events, unless you copy an event that has the checkbox turned off.
Special Consideration for SBA and DLA-funded Programs
If your program is SBA or DLA funded, then your Economic Impact and DLA 1806 scorecards will include all training attendees as active clients ONLY if this check box is turned on, and Neoserra can determine who the attendees are. If you manually update the number of attendees, then Neoserra doesn't know who the attendees are, and Neoserra cannot give you "credit" for them on the respective scorecards.
Want more? Browse our extensive list of Neoserra FAQs.