How do I create a new bid match search profile?
To ensure that your clients receive only those bid opportunities they are interested in, OutreachSystems plays a very active role in writing search profiles. When you submit the keywords, phrases, and product codes that best describe your client's business via the Neoserra profile set-up screen, they are thoroughly reviewed and fine tuned (by people, not computers!) based on our 20 years of experience. Common keyword misspellings and pluralizations, wildcards, proximity statements, exclude statements, and many other Boolean logic operators are added to your search profiles to produce the most accurate results possible. OutreachSystems guarantees that all new profiles are set-up and completed within 24 hours of submission and that you will receive an email confirmation with recommendations and/or average number of matches expected.
To create a new search profile for your client, go to their client record, and in the Bid Match panel in the right hand column of the client stream you will see the Setup profile link: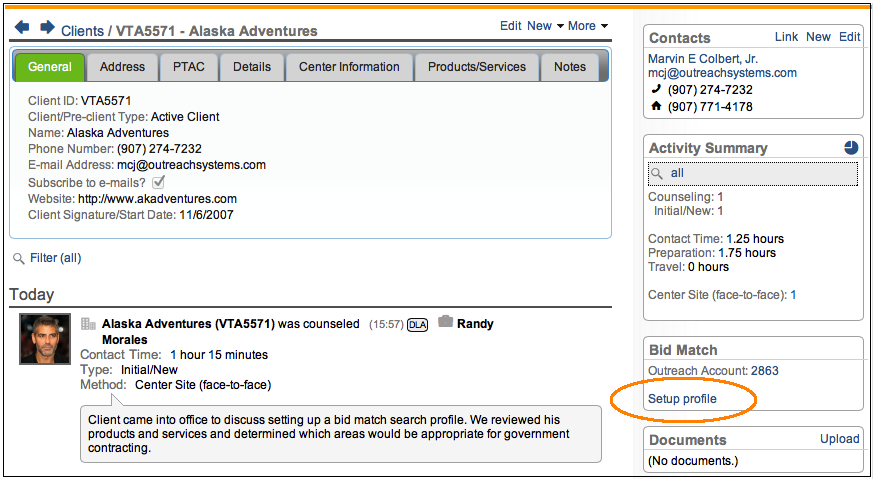 In this FAQ, we will discuss:
Step 1. The Profile Email Address
All profiles must have an email address where the bid matches are to be delivered to. You can include as many email addresses as 250 characters will allow. There is no set number of email addresses allowed because some email addresses are very long and some are shorter. Instead, Neoserra monitors the total number of characters in the field.
Step 2. Choose your Data Sources
OutreachSystems gathers three different types of data sources, and unless a specific data source is selected it is assumed that the client wants to match their profile against all data sources:
Federal bid opportunities from:

Blue Tops (DoD press releases issued for contract awards valued at $5M, or more)
FedBizOpps (> $25,000 bids from a wide variety of federal agencies)
DLA (< $25,000 commodity bids from the Defense Logistics Centers)
Various other federal agencies that do not publish in FedBizOpps

Foreign Trade Opportunities from:

Canada
Europe
Various other foreign offices

State and Local bid opportunities from hundreds of sites:

www.outreachsystems.com/usabid

On average, OutreachSystems gathers 2500 bids daily from all the data sources combined, every day of the week (the search is run 7 days per week.) The approximate daily breakdown is as follows:
Federal Opportunities: 60% of all bid leads offered
State and Local: 30% of all bid leads offered
Foreign trade opportunities: 10% of all bid leads offered
Step 3. Limit Your Search to Federal Supply Groups
The FSG codes will be pre-selected for you if you have entered any FSC/PSC codes on the client record. You can overwrite this selection, if desired. FSG codes can help narrow a client?s search profile and thus eliminate mismatches. As a minimum, if a client only offers services then it would be wise to exclude searching on commodity bids. Similarly, if the client only sells products and they don?t perform any complementary services then it would be best not to search in the federal supply groups that represent service contracts. OutreachSystems recommends that you select as many FSG codes as may be applicable to a client?s business as possible to catch bids that are mis-categorized in a related category, however, searching in all FSG categories is not recommended.
Step 4. Limit Your Search to States/Regions
On the profile set-up screen, you can choose to restrict a search profile to a specific state(s) or to a specific domestic region using the drop down at the top of the listing of states. If a profile is limited to certain states then a match will only occur if one or more of the states are actually referenced in the body of the bid abstract. The search engine does not extrapolate/interpret/guess the performance location of a bid opportunity.
Step 5. Enter Your Keywords
In the next section of the profile edit screen you will be able to add keywords. As discussed above, any new keywords added will be reviewed by one of our search strategists and the appropriate logic will be added. Keywords/keyphrases should be entered as plain English (please do not abbreviate). You do not need to add any logic, nor do you need to worry about adding spelling variations of your keywords. It is important that each distinct keyword or keyphrase be entered on their own line so that our search strategists can clearly distinguish between the different keywords and concepts. It is really important not to put all keywords together on one line as a big run-on sentence.
While we do allow you to also add NAICS codes and/or FSC codes to a profile, we strongly recommend against the use of codes. Each keyword or key-phrase will be its own select statement and each select statement is a separate search command, independent from the previous or following search command. All select statements, however, are limited by the restrictions set forth in the prior 3 steps.
We strongly recommend that you review the sample profiles listed on our Web site for keyword ideas.
Step 6. Enter Additional Comments
If there are any additional comments you would like to share with us you can add them in this section. Please do not put any keywords in the comments box as they will not be seen as keywords by our system.
Want more? Browse our extensive list of Neoserra FAQs.