How do I run a report in Neoserra?
There are more than 100 built-in reports available in Neoserra. Using these system-defined reports, you can compile client address lists, counseling session activity reports, training attendee reports, and even mailing labels, to name just a few. All reports can be generated in multiple different output formats including PDF, HTML, Microsoft Word, Excel or in a comma-delimited format. You can also create custom reports in Neoserra. The process of running a report is the same for system-defined reports and custom reports.
All reports are run from their respective record type. For example, if you want to run a client report, you must first open an individual client record or go to the listing of clients by going to View|Clients; to run a counseling session report you can click on an individual counseling session or go to Activity|Counseling. You will notice the Reports link at the top of the screen.
When running reports, your report output will be based on your filter criteria. If your filter was set to look at all clients, then your report will include all clients; if your filter is set to produce all counseling sessions for the last fiscal quarter, then your report will include all sessions from the last fiscal quarter; etc. You will need to refine your filter before you generate your report. You cannot modify these filters from the report interface. For this reason, always ensure that your filter options are configured to include the specific records that you want to report on before you click the Report link.
Clicking the Reports link displays a report selection/criteria pop-up window like the one shown in the next graphic: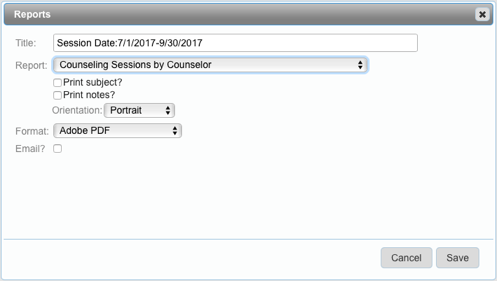 There will be a variety of options available on the screen depending upon the type of report that you want to generate:
Title: Enter a Title for the report in the field provided. This field defaults to a description of the filter criteria previously established, but you can overwrite this default if desirable.
Report: Select the report you want to run. All system-defined reports are listed at the top of the drop down selection, while all custom reports are listed at the bottom. Note:If you see some old custom reports that are no longer applicable, you can delete custom reports from the Manage|Custom Reports menu option. You can delete any report created by you, system administrators can delete any report.
Sort: From the Sort field's drop-down list, select a sort order to apply to your report output, if applicable. The sort order options available differ depending on the type of report you selected, and in some cases the sort is pre-determined by the report.
Subject/Notes: If you are running a client activity (session, award, capital funding, milestone, etc.) report you can indicate whether to include comments and/or notes in your report output by selecting or deselecting the Print subject? and/or Print notes? check boxes. These options do not apply to all activity reports.
Prepend: Again, depending upon the report type, you may optionally Prepend client identifiers with center identifer?. If you choose to check this option then all client IDs will include their center ID in the front.
Orientation: The Orientation option allows you to choose either "Portrait" or "Landscape" format. This option only changes the orientation of the print out, it does not resize the fonts or make any other changes to the layout.
Format: Under the Format heading in the report criteria, select the format in which you want your report output to display, there are six options to choose from:

HTML
Adobe PDF - this is the default option always
Microsoft Excel (Report) - use this option to open the report in Microsoft Excel with all the layout and formatting preserved.
Microsoft Excel (Export) - use this option to open the report in Microsoft Excel without any formatting. This option is ideal if you want to manipulate the data in Excel.
Microsoft Word - use this option to open the report in Microsoft Word with all the layout and formatting preserved.
CSV (Export) - similar to the "Microsoft Excel (Export)" format, this option is designed for you to manipulate the raw data

Email: Below the Output Format drop down option, you will also see check box to send this report via email to either a fellow counselor or to a client. The report will be attached in the format that you specified. This email message cannot be logged as a counseling session and you will need to manually enter in the email address of the recipient and a Subject line:
When you have selected the report you want to run and have customized your report settings, click the Save button to see your output either as a report or attached to an email message.
Want more? Browse our extensive list of Neoserra FAQs.