How do I provide my contacts/clients with their eCenter Direct password?
The password selected by the client on eCenter Direct will be encrypted in your Neoserra database. This means that you will not be able to see what the client's password is, nor will you be able to provide the client with their password should they forget it. The passwords are encrypted not only for your clients' security but also to inoculate you from any liability associated with having access to their passwords. Since many people use the same password for many different systems, including their online banking system, it is important to treat your clients' passwords with the highest level of security.
If a contact has forgotten their password, then the best thing to do is to tell them to go to eCenter Direct and click on the "Retrieve Password" link in the top banner. Neoserra offers an integrated email that can be sent to the client giving them the necessary details:

The email message includes the contact's email address on file, and a link to the Password Recovery page: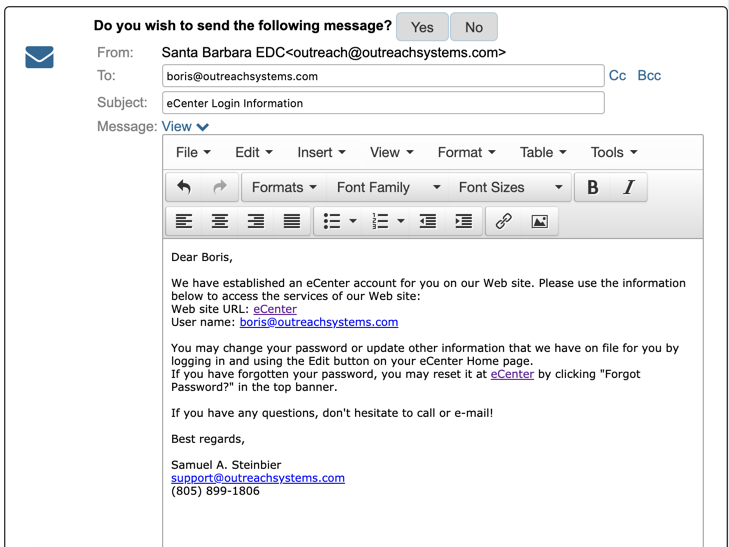 When they click on the "iforgot" link they will be taken to your eCenter Direct where they will be presented with an interface to start the password recovery process: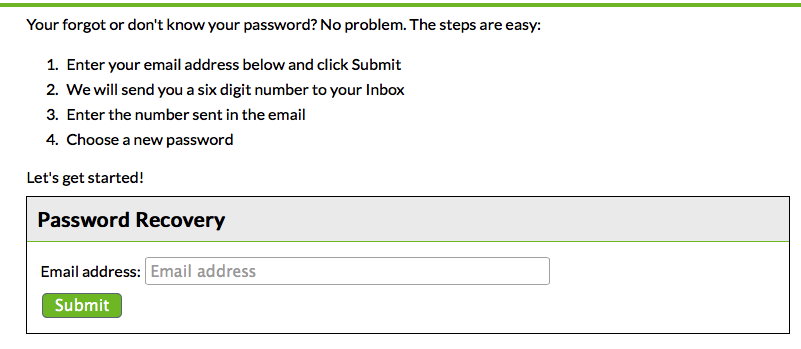 Assuming there is only one record in your Neoserra database that matches their email address, then a password reset code will be emailed to the contact. The password reset code is a temporary code, designed to be used only once. This code is not a new password, but rather a way for the client to gain access to eCenter Direct after which they can choose a new password:

Note: The eCenter Direct system will generate the same code for any 12 hour period during which the client attempts to reset their code.
Common Sign-up Error
There is one common error that clients may experience when signing up for an event on eCenter Direct. This error is caused when the client has forgotten their password and they want to use the password retrieval feature on eCenter Direct. The problem comes in when there is more than one contact record in your Neoserra database with the same email address.
When the client clicks on the "Retrieve password" link, and there are, in fact, duplicate contact records in the database with the same email address then they will get the following error message:

eCenter Direct will not be able to provide the client with their password, since they essentially have multiple passwords in the Neoserra database. The client will be provided with the email address of the counselor(s) associated with their existing contact records in the Neoserra database to help resolve this issue. These same counselors will also receive an email when a client attempts to log in without success due to a duplicate record issue: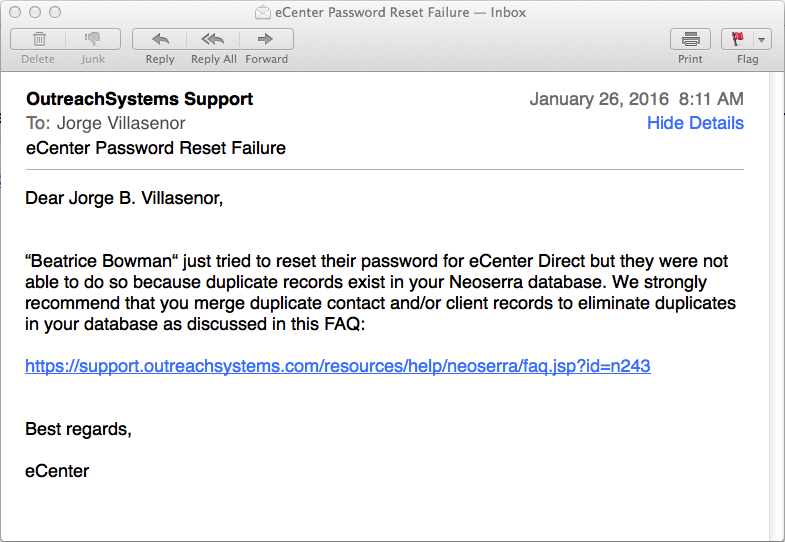 It is vital that you eliminate duplicate records from your Neoserra database in order to facilitate your clients' access to eCenter Direct as discussed in this FAQ.
Want more? Browse our extensive list of Neoserra FAQs.