How do I create and upload my SBA data exports to EDMIS NG?
EDMIS is the Entrepreneurial Development Management Information System, which is administered by SBA. EDMIS came online in October 2005 and it is based exclusively upon the federal fiscal year. Thus, a reporting period for EDMIS is October 1 through September 30, regardless of whether your SBDC or WBC has a contract with SBA on a calendar year basis. Effective fiscal year 2021, the EDMIS back-end system was updated to EDMIS Next Generation (NG). The data requirements for EDMIS NG did not change but the front end was slightly updated and the back end processing was greatly improved.
Quarterly, SBA-funded centers are required to export data to the EDMIS system for reporting purposes. At the end of each quarter, you have 30 calendar days, plus five business days, to successfully submit your data. Your quarterly EDMIS exports are always comprised of two XML files. The XML files follow the guidelines as provided by SBA in their SBA Data Requirements document. The new EDMIS NG documentation has not yet been posted, but the old documentation is available at the SBA web site at: https://www.sba.gov/offices/headquarters/oed/resources/33381. As an SBA-funded resource partner, you are expected to upload your client and session activity in one file (641 data), and your training event information (888 data) in a separate file.
Although Neoserra stores significantly more data than just what is exported (such as client name, phone number, email address, etc), this optional data is omitted from the export in order to keep your EDMIS export operations as simple (and private) as possible. It is worth noting that Neoserra will only export client activity, in other words no activity with pre-clients or stakeholders will ever be exported. Furthermore, non-reportable sessions are never exported.
To prepare yourself for the EDMIS Export you first have to make sure that your configuration settings are set correctly, and then you can start the process of exporting data:
Note: This FAQ is written for Neoserra administrators, operating in administrator-mode, because they are the only type of Neoserra users that are allowed to perform EDMIS exports in Neoserra.
EDMIS Configurations
There are several configurations that affect your EDMIS export process. Each setting should be taken into consideration and is discussed next.
Center Settings
The Location ID is an essential first step. Without the Location ID you will not be able to create any EDMIS Export files. This ID is provided to you by SBA, and every center in your database that contributes records to the EDMIS export must have a Location ID code present in its center record. Simply edit your center records and add the ID in the field provided: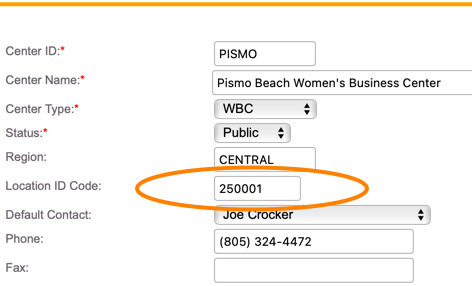 United States SBA/DLA Panel
Under the Administration|Configuration menu option, you will see the United States SBA/DLA panel. This panel contains several default settings that affect your EDMIS export as discussed in this FAQ.
For example, here you can define the default funding source(s) for all EDMIS exports. When you initially create an export, its funding source filter will default to whatever is set in the Funding source(s) of activity configuration, but it can always be overridden at the time of EDMIS export generation.
Similarly, the Center(s) to be included in export to EDMIS setting allows you to define the default center(s) for all EDMIS exports. When you initially create an export, its center filter will default to whatever is set here, although you can always override the default at the time of EDMIS export generation.
It is important to periodically review your default settings on the SBA/DLA panel to make sure the settings conform to your current operations.
General Settings Panel
The above mentioned settings are EDMIS specific and are all found under the on the SBA/DLA panel. There is an additional configuration on the "Settings" panel for you to be aware of. The "Settings" panel allows you to lock data in the Neoserra database that is older than a designated date. Why is this important? This is important because, although SBA allows edits to records previously submitted within the current fiscal year, once the fiscal year has closed, no records from the prior year may be edited.
To ensure that your Neoserra database is fully synchronized with the EDMIS database, OutreachSystems strongly recommends that you lock data each year right before uploading your fourth-quarter export files to EDMIS. This prevents users from adding or editing records that you are in the process of exporting. Neoserra administrators can override this lock so if you require the ability to change records based on Neoserra or EDMIS error log data, you're still able to do so.
To lock the Neoserra database after every fiscal year, set the date prior to which users should not be able to edit records in Administration|Configuration|General Settings. For detailed information on record locking, see the FAQ titled How do I "lock" previously reported data to ensure database and reporting integrity?
Data Maintenance Page
The Neoserra Data Maintenance page is available at all times under the Administration menu for administrators to access and review. And while it isn't technically a configuration setting, it is a critical step in preparing for your EDMIS Exports. Known EDMIS errors will be identified on this page, in real time, allowing you to stay ahead of your errors throughout the year. It is import to correct as many errors as possible before you do your first EDMIS Export, because EDMIS functions in a chronological manner. If session #1 is rejected by EDMIS, for whatever reason, then session #2 because the first session on record within the EDMIS system which means that session #1 may or may not be accepted down the road anymore.
Duplicate Client Analysis
Duplicate client records negatively affect the integrity of your database. For SBA-funded centers reporting to EDMIS, duplicate client records are particularly troublesome because not only will you be overstating your client count and understating your extended engagement client count, but remedying duplicates is extremely complicated once session activity has been submitted to EDMIS for a duplicate client record.
For these reasons, we strongly recommend that you run a duplicate client report before your first export based upon newly entered clients in the current fiscal year only! You may choose to create a filter similar to this one:

And then once you have created the filter, choose Reports|Duplicates by Company Name and/or Reports|Duplicates by Company Phone. You can merge duplicate clients, assuming the "victim" client has not yet been accepted by EDMIS as discussed in the FAQ titled: How does the merge feature work?
Creating the EDMIS Export Files
The process of exporting your data to EDMIS can be broken down into the following steps. Ideally, you won't have any errors, but realistically you may cycle through these steps multiple times as you resolve any errors found by the EMDIS NG system:
Step 1: Create EDMIS Export File
You will need to create a copy of your Neoserra database to be exported to EDMIS NG. This copy will include some, but not all of the data found in Neoserra. For example, your export file will never include pre-clients or their activity. Nor will it include non-reportable activity. Furthermore, it is important to know that the export files never includes Personal Identifiable Information (PII). Clients are identified by their internal Neoserra ID number, not by their name.
Follow these steps to create your Export file:
Enter Administrator-mode.
From Neoserra, select Manage|EDMIS.

Click the Exports link. If you do not see it, then you are most likely not logged in as an administrator:

Next, click the New link.
In the Title field, enter a descriptive title that clearly states what data this test export encompasses.
By default, the Funding Source(s) field displays the default funding source(s) selected under Administration|Configuration|General Settings. This is most likely "SBA." You can add additional funding sources if so desired, however, it would be best to update the general settings with these additional funding sources so as to ensure that the same funding sources are included in the next export.

If you intend to export records from multiple funding sources, its important to note that EDMIS will reject multiple initial counseling sessions or out-of-sequence initial/follow-up counseling sessions for a single client. Therefore, be prepared to encounter problems if you export records from multiple funding sources and you have multiple initial counseling sessions for a single client under different funding sources. For example, a dual-funded center that has one DLA-funded and one SBA-funded initial counseling session for a single client will encounter EDMIS rejections if the center selects both "SBA" and "DLA" for the exports funding source.

By default, the Center(s) field displays the default center(s) selected on the Administration|Configuration|General Settings page. This is most likely "All." You can include/exclude centers as needed, but again, any changes made here probably also should be selected on the General Settings page.
Select the quarter and year for which you are creating the test export.

Regardless of the quarter you select, Neoserra will always use the first day of the current fiscal year as the start date. This is to ensure that (1) any new records entered for prior quarters or (2) any records previously submitted that have since been updated are uploaded to EDMIS. EDMIS permits updates to previously-submitted records as long as those records were submitted within the current fiscal year.

For the Type of Export field, select either the "641 (Clients, Counseling, Investments, Awards and Training)" or "888 (Training Events)" option.

When all export criteria is set, click the Save button.

Depending on the size of your database and the export file types selected the export process may take several minutes, so please be patient.
Step 2: Download XML/ZIP file to your computer
Upon completion of the export process, Neoserra displays your newly-created EDMIS export record. Here is what a 641 export record might look like: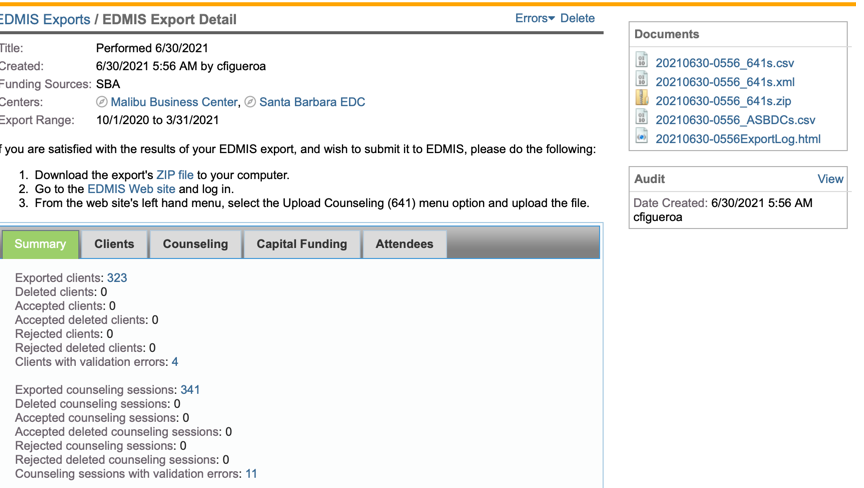 This EDMIS export record provides a summary of the data to be exported and it will also identify any errors that Neoserra has encountered in your data. In addition, several documents are attached to the test EDMIS export record (these documents do not contribute to your total storage allocation):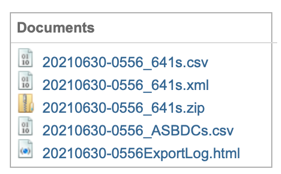 An EDMIS ExportLog that highlights the data corrections that Neoserra makes during the export process
Two .csv (comma-separated values) files that were created for your own internal use. These are NOT to be uploaded to EDMIS. The first YYYYMMDD-HHMM_641s.csv or YYYYMMDD-HHMM_888s.csv simply provides a more user friendly file for you to see exactly what information is being exported to EDMIS. The second file is only for SBDCs and allows them to export data to ASBDC. Neither of these files are ever exported to EDMIS, and they are only provided for your benefit.
And then the two most important files:

YYYYMMDD-HHMM_641s.xml (or YYYYMMDD-HHMM_888s.xml)
YYYYMMDD-HHMM_641s.zip (or YYYYMMDD-HHMM_888s.zip)

These are the files to be exported to EDMIS NG. You would only export either the .xml file or the .zip file. The two files essentially contain the same information, the .xml file is not compressed and is thus much larger is size and may take longer to upload to EDMIS.
Right click on either the .xml file or the .zip file and download the file to your computer.
If your test run indicates errors, either through the posted EDMIS Export Log or the various record summary tabs, you'll need to remedy the errors before uploading data to EDMIS, as discussed in the next section.
Step 3: Login to EDMIS NG
You will need to obtain your login credentials to the EDMIS NG site ( https://connect.sba.gov/) from SBA. OutreachSystems cannot provide access to the EDMIS NG site and all questions related to the site should be directed to nextgenedmishelp@sba.gov
When you go to the site, click on the "Sign up with login.gov" button: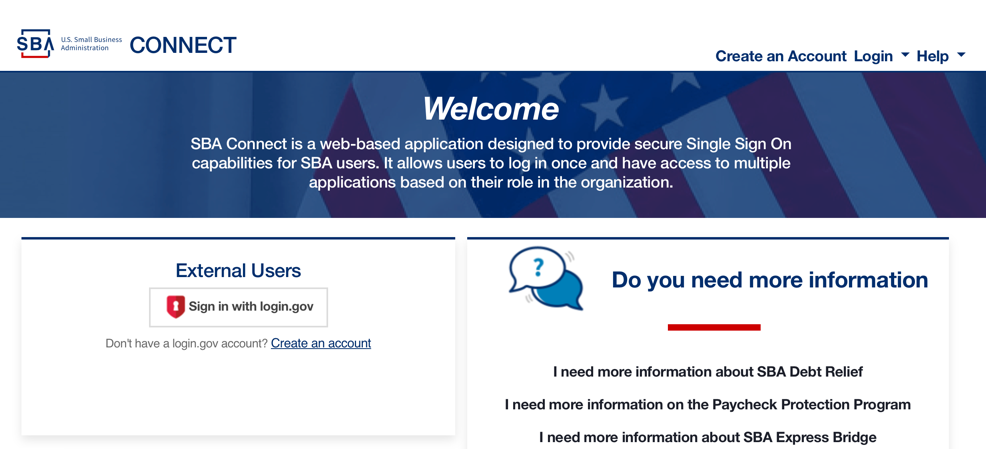 Accept the terms and conditions on the next page and then enter in your username and password information as provided to you by SBA. Once you have entered your credentials you will be asked to enter in a security code that will be texted to you: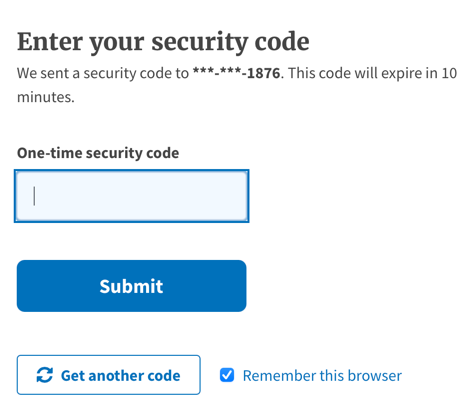 Step 4: Upload XML/ZIP file
Once you are logged into the EDMIS NG system then you will want to click on the Location ID on the "EDMIS Entrepreneurial Development Management Information System" panel on the page. This will take you to your landing page. From here you can select the "Uploads" link at the top of the screen:

Click "Upload File" and enter the information as appropriate: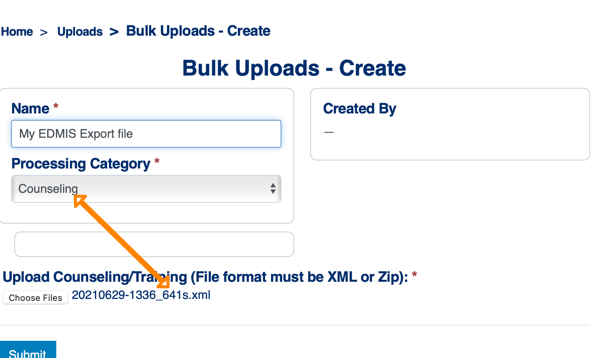 Click Choose Files to find the file generated by Neoserra and that you downloaded to your system in Step 2. The most important thing to keep an eye on is that the data that you are exporting corresponds to the Processing Category. In other words, if you are exporting 641 data, then choose "Counseling", if you are exporting 888 data, then choose "Training".
Step 5: ... WAIT...
As of 6/30/2021 the EDMIS NG processing time can take anywhere from 5 minutes to 5 days!
You will receive an email message when the file has been processed. In the absence of an email message you can periodically take a look at the EDMIS Uploads page to see if your file is still pending:

Step 6: Download Error File
When EDMIS NG finishes processing your file, you will receive an email message letting you know that it completed processing: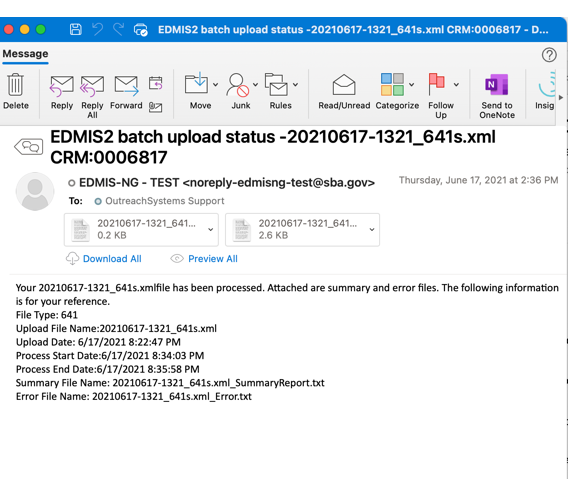 The email message will include two file attachments. The first one is simply FYI letting you know how many records were processed and how many records were rejected:

This message is nice to have so that you know how many errors you will need to correct, but this message is not critical. The absolutely most critical step in the entire process is what you do with the second file attachment! The second file attachment may look something like this: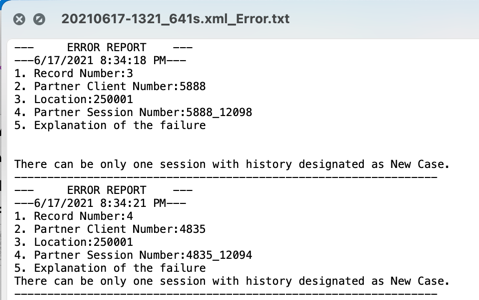 You are more than welcome to review the message, but the most important step is to import these details into Neoserra, so that Neoserra knows what records have been successfully exported to EDMIS, and which records need to be corrected.
As such, you will need to save this second attachment with all the detailed error information to your computer.
Step 7: Import Error File into Neoserra
The Error File that you downloaded in the previous step now needs to be imported into Neoserra. You can do this by going to the corresponding EDMIS Export record and choosing Errors|Import Error Log:

Browse for the EDMIS Error Report that you saved locally. When you locate it, click the Upload button. The uploaded EDMIS Error Report is now attached to the EDMIS export record under the "Attached Documents" heading.
We cannot emphasize enough how important it is to tell Neoserra which records were accepted by EDMIS NG, and which records need to be corrected. This is an essential step in the entire process and should not be overlooked. When Neoserra knows that a record has been accepted by EDMIS, it's able to properly handle subsequent edits or deletions of that record according to EDMIS requirements.
Step 8: Correct EDMIS errors
Another benefit to importing the EDMIS Error Report into Neoserra is that you'll be able to use the Neoserra native Error forms interface to correct the errors identified by EDMIS NG. Since the EDMIS Error Report is not reader-friendly, the ability to read about the errors in plain English is extremely helpful.
Open the lower record tabs. Notice that, for the records that were rejected by EDMIS, the reason for rejection is displayed and, for the records that were accepted, a "Y" is placed in the "Accepted?" column.

Accepted records are never submitted to EDMIS again, unless they are edited or deleted. Rejected records, of course, must be remedied.
You may be thinking that since you cleaned up all your errors on the Data Maintenance page, how can you still have rejected records? Keep in mind that the Data Maintenance page was only able to identify errors that Neoserra knows about. Unfortunately, Neoserra is not able to detect all errors. For example, Neoserra will warn you if a record doesnt contain a ZIP Code, but it cannot validate the ZIP Codes that are present. EDMIS, however, does validate ZIP Codes and if you upload a record with an invalid ZIP Code, the record will be rejected by EDMIS, whereas Neoserra may have let it slip by.
But probably the most common errors occur when historical data has been changed since the last EDMIS Export. Also, if two EDMIS-uploaded records are merged then this will almost certainly cause errors down the road. This is one reason why we ask you to check for duplicates before doing your first export (rather than afterwards).
How you decide to fix the identified errors may depend upon the number of errors and the procedures in place for your program. If there are only a couple of errors, it may be easier for the lead center to go into the database and correct the errors. But if there are a significant number of errors, or if your program expects individual centers to be responsible for their own errors, then you can direct Neoserra users to the error records found under the EDMIS menu option in Neoserra and request that they identify and correct the errors displayed there for their center.
The steps for identifying and correcting errors in Neoserra using the error records are outlined next:
Click Manage|EDMIS and open one of the available forms (these forms correlate with the five record types that contributed to your test EDMIS export: client, counseling session, capital funding, award, and training event records).
Verify that the filter settings are accurate.
To correct an error within a record, click on the date of the record. Neoserra will display that record with the error(s) displayed at the top in red:

After correcting the error(s), save your edits, and move on to the next error. As errors are corrected, they will disappear from the summary display, assuming that your filter box criteria is set to display only those record types with a Status of "Error".
Repeat these steps for each form under the EDMIS menu.
Step 9: Repeat if Necessary (else Accept All)
Once you or your users correct the errors identified by the EDMIS system, you should create brand new export files (using identical generation parameters) and submit the new export file to EDMIS. Basically, you need to go back to Step 1 and repeat all the steps again to create a new export file with the corrected records.
When gathering records for subsequent exports, Neoserra will only include those records that were previously rejected. Accepted records from the last go-around will not be re-exported (unless you edited them).
Essentially, you'll keep cycling through this process until the EDMIS system indicates that all your records were successfully uploaded. Don't be discouraged if you need to do a couple of uploads in order to get to the point where all records are accepted by EDMIS. With each upload, you will be submitting a smaller and smaller set of records.
Once the EDMIS system indicates that all your records were successfully uploaded, its almost time for celebration—but not quite yet. There is still one VERY important step you must take, which is to manually set the status of the last batch of submitted records to "Accepted."
Why manually? Because if your final upload status is that all records were successfully uploaded, there's no EDMIS Error Report to import into Neoserra to automatically do it for you. This is probably the easiest step of the entire process, but it is also the most overlooked step, with unpleasant consequences. If records that have been accepted by EDMIS aren't marked as accepted in Neoserra, Neoserra will continue to try and upload these records over and over again.
The steps for manually setting the status of the very last batches of uploaded records to accepted are outlined next:
From Neoserra, open the EDMIS export record that generated the export file for which all records were accepted by EDMIS.
Click the Errors|Accept All menu option.
Make sure you ONLY do this step if there are truly no errors reported back to you by EDMIS NG.
Congratulations! You have completed your EDMIS export process!
Note: Did you just complete a fourth-quarter export? If so, don't forget to lock data for the previous fiscal year, as described in Locking Data.
Want more? Browse our extensive list of Neoserra FAQs.