How can I implement Experimental Protocol RFC 4406?
Internet mail suffers from the fact that much unwanted mail is sent using spoofed addresses -- "spoofed" in this case means that the address is used without the permission of the domain owner. When a message is transferred via SMTP between two unrelated parties, utilizing RFC 4406 you can provide the necessary permission for one SMTP client host to send mail on behalf of the mailbox referenced by the message; which is what is necessary when you email from Neoserra using the outreachsystems.com email server to send on behalf of your normal email address.
In order to utilize this RFC you will need to activate it under the Administration|Configuration|General Settings menu option: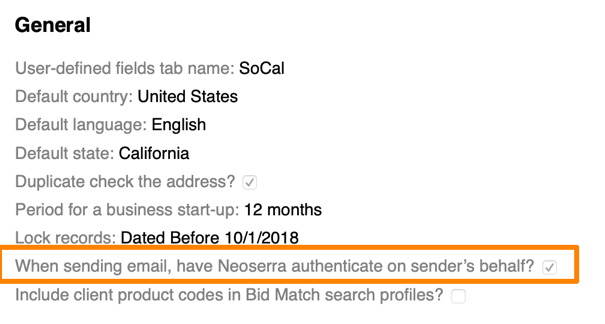 When this is activated, the following change is made:
Emails sent from the Neoserra application will send at the SMTP protocol level:

MAIL FROM:

<bounce@outreachsystems.com>. All bounce-backs are routed to a vacuum application that logs the bounced message and records it in the Neoserra application. By logging the bounced message under the Administration|Email Operations Center the administrator will know which messages were not delivered.
The Neoserra application will use an OutreachSystems' controlled MTA that has a valid SPF record for sending email from the @outreachsystems.com domain.
The "From:" MIME header will be the sender as managed by the application. This will vary by context, it could be either the logged in user, or the counselor or the event point of contact, but the typical end result would be of the pattern:
From: Jane Doe <jane.doe@state.xx.us>
Anti-spam filtering results and therefore delivery success will vary. It is up to the discretion of the State if you wish to use a spfv2/pra records for the domains referenced that is inclusive of our servers. If you do choose to update your SPF records then the following two lines will need to be added:
v=spf2.0/pra include:spf.protection.outlook.com include:spf.outreachsystems.com -all
You will also want to add the standard SPF reference:
v=spf1 include:spf.protection.outlook.com include:spf.outreachsystems.com -all
With these settings in place, you are now able to take advantage of this experimental RFC. The end-users should not visually see anything different.


Want more? Browse our extensive list of Neoserra FAQs.