When I send an email message from Neoserra how can I allow my clients to opt-out of future emails?
The [CONTACT_UNSUBSCRIBE] substitution variable is a special substitution variable in that it allows the clients to automatically turn OFF the "Subscribe to emails" checkbox on either their contact and/or their client record.
You may include this substitution variable in your email templates as shown below: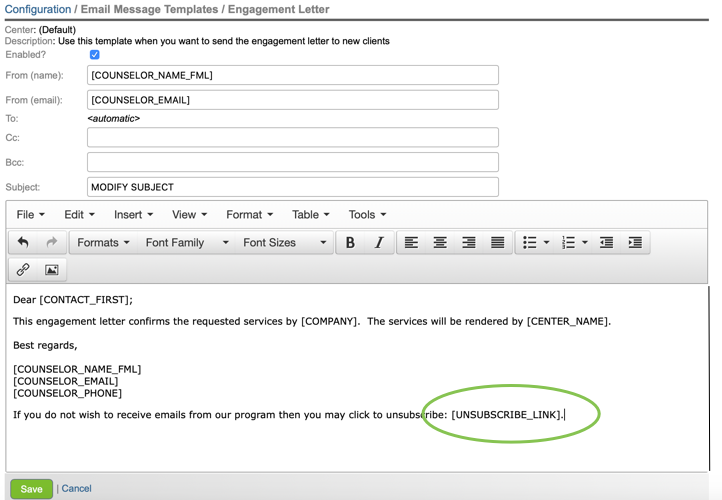 The substitution variable will be expanded to a URL that the client can click on to unsubscribe themselves from your emails. There are a couple of points to be aware of:
If the email address to which you sent your email is included both on the client record AND on the contact record, then BOTH email addresses will be unsubscribed. In other words, both the contact record and the client record will show the "Subscribe to emails" checkbox turned OFF after the recipient clicks on the link.
There is no automated way for clients to subscribe to your emails.
When a client clicks on the unsubscribe link, their action will be logged in the Audit log on respective the client and contact record(s) that have been updated.
Keep in mind that this variable will simply uncheck the "Subscribe to emails?" checkbox. It is up to you to decide when you want to exclude these recipients from your emails. For example, when you send a survey via Neoserra, you may want to send your email to all clients in your database, regardless of whether they have opted out of your emails or not. But when you send marketing information, you will need to decide to include/exclude email addresses where the subscribe to email check box is checked:

Want more? Browse our extensive list of Neoserra FAQs.