How do I create a Milestone record for a client in Neoserra?
A milestone record represents a significant event in your client's business. A milestone record can be used to record increased sales; increased jobs; certifications obtained; a success story for that client; among other things. Sometimes, multiple milestones may occur at the same time. Business expansion is often accompanied with increased sales and increased staffing levels, which is why Neoserra allows you to record multiple milestones at the same time.
To create a milestone record, go to View|Clients and click on the client for whom you want to create a milestone(s). Click New|Milestone and you will be presented with the following interface: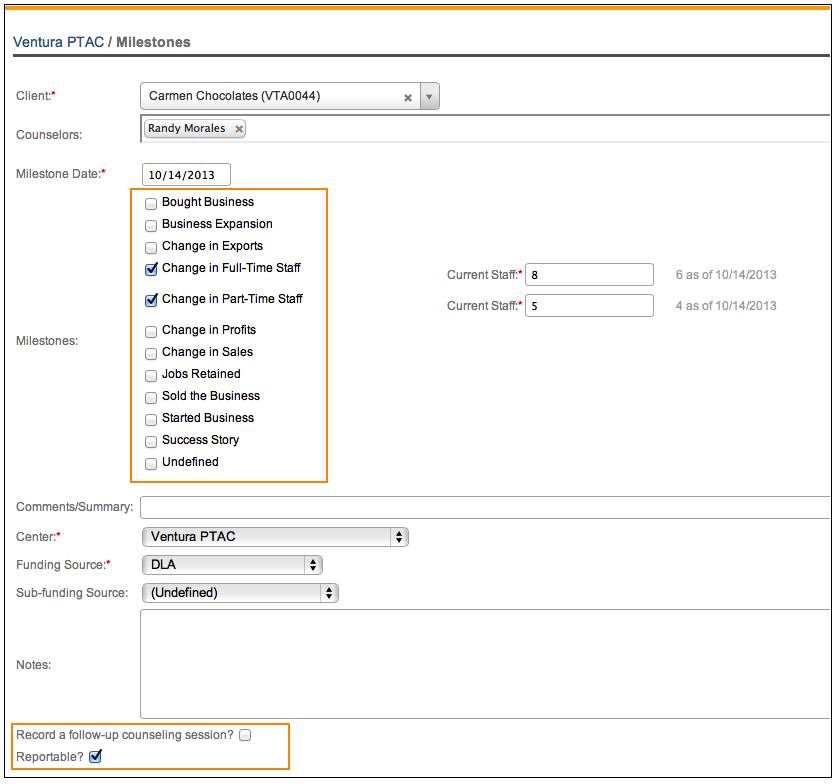 For some of the milestones, additional information is required. For example, in the graphic show above, if you select Change in Full-Time Staff and/or Change in Part-Time Staff, then you are expected to record the current staffing levels for the client so that Neoserra can calculate the difference. You will notice that Neoserra provides you with the staffing levels previously entered on the client record for reference purposes. In other cases, such as when you record a Success Story milestone, then no additional numerical data is required and instead you should enter the success story details in the Notes field.
At the bottom of the milestone data entry screen you will also see a checkbox that allows you to Record a follow-up counseling session for the same client using the same Date, Counselor, Funding Source(s) and Notes as entered on the milestone record. Additionally, you will be asked to specify the Contact Tyep, Counseling Area and Additional Area for the counseling session record. Prep and Travel time cannot be recorded on this interface.
When you save your milestone entry you may also be prompted to update the client record. with the relevant details. For example, the change in staffing milestones selected above would prompt you to update the client's employee count:

Neoserra may also prompt you to schedule a follow-up session with the client, assuming your Neoserra database administrator has activated this feature under Administration|Configuration|General Settings.
Neoserra will create separate milestone records for each milestone type selected on the data entry screen. In other words, based upon the first graphics show above, two separate milestone records will be created for this client: one for Change in Full-Time Staff and one for Change in Part-Time Staff.
Because all milestones all presented on the screen at the same time, it may be beneficial for your Neosera database administrator to review all milestone types and potentially inactivate those milestones that are no longer applicable for your program.
Want more? Browse our extensive list of Neoserra FAQs.